Update Required
To play the media you will need to either update your browser to a recent version or update your
Flash plugin
.
Click to listen to the Audio interview << Heroes >>
---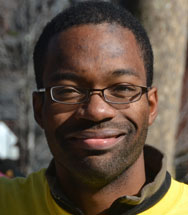 Charles Chapman
An Urban Hero knows no age limits, whether young or old. Charles Chapman began his work with the homeless when he was a freshman at the University of Pittsburgh. In his sophomore year, he started his nonprofit ministry that is still thriving and growing today. While he was at it, he got married and now has two small children. Charles is a no-nonsense person, but is anything but intense when you meet or talk with him. Here is an excerpt from his interview as he talks about his vision for working with the homeless and poor.
JS: Today I'm honored to have Charles Chapman, who was nominated by Jerry Cronenweth. So Charles, welcome to the Urban Heroes program.
CC: Thank you. Thank you so much.
JS: Well, as we have done with all of our Urban Heroes, let's start out by you talking to our listeners and readers. So talk to them about who Charles Chapman is.
CC: Well, I was born in Baltimore, Maryland, to wonderful parents, John and Joyce Chapman. I'm the oldest of five children; I have four younger siblings. I was raised in the church and I always saw the importance of a relationship with God. And when I was a youngster, about seven years old, I accepted Christ into my heart. At that point, I believe I received the Holy Spirit, and God kind of started me on this great adventure that I find myself on today.
When I was 13, I went on my first mission trip. I went to Washington, D.C. with my church youth group. Now being from Baltimore is not very far away. But we actually went and served the homeless. And unlike most mission trips, instead of just going to food banks and shelters, we actually spent the time outside talking with people in the streets. So it gave me a great experience just interacting with the homeless.
Well then when I was 16, I served as a missionary in Jamaica for three months. It was there, I believe, that God gave me the call for my life, and what He wanted my purpose to be about. Through a series of events, God led me to be a missionary. And I didn't know where or to what extent that would play out, or when that would be, but I was very convicted on being a missionary. And so, I came back from Jamaica, finished my last two years of high school, got involved in some local service opportunities here, well I guess there, in Baltimore at the time.
And then God opened up the doors for me to come to Pittsburgh in 2002. I came to The University of Pittsburgh, and met a gentleman. We started to going out to the streets and talking to the homeless here in Pittsburgh. And now, 11 years later, Living Ministry is formed, and I serve now as the executive director.
JS: So again what's the name of that ministry?
CC: Living Ministry.
JS: And where's it located?
CC: Our office is 2536 Maple Avenue. That's the Perry Hilltop area of Pittsburgh. But, you know, our ministry is very much like Christ. We don't have people come to us as much as we go to them. So we spend our days inside of shelters throughout the city, from East Liberty, to downtown, to the North Side, wherever people are, that's where we find ourselves.
JS: Let's get back to that in a minute. What made you pick Pitt from Baltimore.
CC: Well, I went to a school, somewhere to Central Catholic. So a prestigious Catholic school. And actually most people from my school went to Ivy League schools. But when I was a senior, I got this pamphlet in the mail from this little school I had never heard of called the University of Pittsburgh. And they were advertising social work, and God had made it clear that social work was the major that He wanted me to do. So I said, I might as well check it out.
So I came up my senior year, hadn't applied or anything. But they invited me up, they paid for my mother and I to come up. And they had me fill out a one-page application. When I got home that week I was accepted to The University of Pittsburgh. The next week, they sent me information saying that I had won a full scholarship. So I had a four-year full academic scholarship. So still wasn't very interested in going to Pitt, so that was nice, that they wanted me. My desire was to go to NYU. I ended up getting a full scholarship to NYU as well, but God just really drew my heart to Pittsburgh. I was intrigued about what it is I was to do here. So I came on faith.
JS: Go back to the time in Jamaica. How did you know? What was God doing or dealing with in your life that you knew what your calling was that young?
CC: Well it was really just one instance. I was working in a group where we were building a retaining wall for a driveway, and a girl comes up from another group, and she's screaming in pain, and you could tell she dehydrated, and she doesn't really have the strength to be able to walk. So I proceed to kind of pick her up and carry her to her bed. And as I do that, she just wails, screaming and yelling. Just embarrassed and in pain, and all those different emotions. And so I lay her on the bed and the nurse comes, gives her an IV, and she ended up being fine.
But from that example, the Lord just really shouted to me that first, this is what He does for us, you know, in our weakness and our pain, he carries us, in our sin. Because of what He's done on the cross; He's given us the grace to be carried and healed. But also, that's what He wanted my life to be about. You know, I desired to be an engineer. That's what I thought I wanted to do. And a lot of people from my school were going in that direction. But, God made it very clear. He said, "Charles, this is what I want you to do: carry people to me and let me fix them." And I said, "Well, that doesn't sound like an engineer. That sounds more like a missionary." So that's kind of where it came from.
JS: What did your parents think? Did you tell them? What was their reaction?
CC: Well, I did. It's funny because in Jamaica they actually had a full-time spot open; a missionary was coming back home from the field, being over there for a couple of years. And so I was thinking, I might as well just stay out here. I want to be a missionary, there's a spot here, this must be the Lord's opportunity for me to do it. And so actually, I came back home and talked to my parents about it. And really, my parents weren't against it, but my father did challenge me two ways.
He asked, first, would I be honoring God by throwing away my education? You know, the opportunity I had. Like I said, the school I went to was a prestigious school. And pretty much, we went for free. It's a $14,000 a year school. And my parents never had to pay more than $600. Would God bring me all the way to 10th grade from 2nd grade, and then say, well, now just stop.
And then secondly, maybe even more importantly, my father really challenged me with, that it's kind of trendy at the time, and even today, to want to go overseas to see all this need in developing countries, and think we can go and be the hero and save. And to a certain extent it's easy; they don't know you. So you can be a super Christian, to a certain extent. Who's going to be the missionaries here in the United States? Who are going to be the people that try to usher in God's kingdom where we're at, you know, in our own back yards and neighborhoods? And so that kind of convicted me to be a missionary to the United States. And that's kind of where this all came from. And so the major that I saw that was closest to that was social work. And that's how that came about.
JS: What church were you involved with when you went to Jamaica.
CC: Presbyterian church, kind of outside of Baltimore, called Chapel Gate Presbyterian Church. It was interesting, because my family lived in the city, and this church was very much in the suburbs. It'd be like living on the North Side and going to church in Cranberry, or Mars, or something like that. So, we went to this big church, a suburban church. But they were just really good at missions. They just went a lot of places. They had resources to do that. So I was exposed to a lot of things that I probably wouldn't have been exposed to other wise. I'd say that's where the call came from.
JS: So you come to Pittsburgh. Talk to me about the experience at Pitt and how God continued to shape your calling in who you were and who you are today.
CC: Well, I was very focused. And that's one of the things that I just thank the Lord for. Had put in my mind exactly what it was I was to do. A lot of people come to college, and they have no idea what they want to do. And so they spend so many years trying to figure out, and they kind of guess, and just make choices based on guesses or gut feelings or those types of things. So I didn't waste any time.
Coming into Pitt, right away, I knew it was social work. And so that freed me up to do the classes that I needed to do, so that I didn't waste time there. I also knew that I was getting involved. I started volunteering at, kind of, as many places as I could. Got involved in a church group. Kind of did all those things right from the beginning.
So I never had to deal with the temptations that you kind of face in college. I just never even had an opportunity for that. We pretty much started the ministry; we started going to the streets and talking to people in October. So I got to Pitt at the end of 2002. We were already on the streets in October, and we went to our first shelter November 2. So there wasn't a lot of lag time between when the ministry started and me being there. And so all through college, we invested here in Pittsburgh with the homeless. And visiting shelters. And one shelter leads to another shelter leads to another place. You know, more opportunity. When I was a junior, I started working officially parttime for the ministry. We got to the point where we could be staff. We were volunteers at that point, and then when I graduated in 2006, I started full time.
JS: Now you started Living Ministry while you were at Pitt?
CC: Right.
JS: So what year did you start it in?
CC: 2002.
JS: So right as you were a freshman. Well you were focused. You weren't going to football games were you?
CC: Because we went to the shelters on Saturday night, pretty much missed every football game. But it was a great witness. The guys would always say, "Man, why are you guys spending your Saturday night, the busiest night for a college student, with us?" And it was a great opportunity to share about the Lord, or whatever we had for them.
JS: Where do you think you got this focus from? Your parents? Is that a tendency? Or is it just a singleness of the calling that God had given you?
CC: I think singleness of the calling. I had a friend who I'm pretty close to. So when I went to Jamaica for the summer, he was there for the summer as well. So we kind of went together; he's about four years older than me. So I was 16 and he was probably 20. And he kind of had a singular focus as well. And so we grew very close and he had a desire to be a missionary – he actually wanted to be a missionary to Rastafarians – spent some time in Trinidad. And so as we matured, kept each other accountable to that focus.
Now, he's a missionary in Cambodia, and has been there with his family for the last 5 or 6 years; did his language study and that stuff before. And so I've been here with L.I.V.I.N.G. Ministry for the last 11 years. And so we're able to keep in touch and continue to sharpen each other.
And then also, when I came to Pitt, I started working at the Pittsburgh Project, as a volunteer my freshman year, and I met another young man, Joe Repik. And as we were starting the ministry, he had a vision to start Aliquippa Impact Ministry. And so we have, over the years, drawn very close together. Our ministry has been about 11 years and his has been about 10. And we sharpen each other, we pray regularly together. And our families are pretty close; we're about the same age. So that has helped keep us focused as well.
JS: Now as a freshman, how did you even have the thought to start your own non-profit? I mean most adults aren't even thinking like that. Where did that thought come from?
CC: Well we've never thought of it as a non-profit. We didn't become a non-profit until 2004. But as a freshman, it was more about how we could get involved and what can we do? The guy I started it with, his name was Mike. Mike kind of had the same mentality. He was not about meetings and committees and discussions. He was about, well, let's just go and do it. And let's just kind of see what happens. He reminds me a lot of the Apostle Peter. He'd just jump out the boat, and say, "Alright, let's go see what happens." And so we did that. And I think that over time we got to the place where we had to decide if this was just going to be a hobby, something we do on the side, or is this going to be the call that God has for us.
JS: And so it was the call. Now you said in your junior year, you started getting some part-time support. How did the support start to come in?
CC: It actually first came in 2003. So we started in 2002, in late fall, and 2003 in the summer they had Promise Keepers. And I had done Promise Keepers a lot when I was in Baltimore as a high schooler. I went to that Stand in the Gap thing in D.C. So I was familiar with Promise Keepers, so I thought, man this would be a great idea to take some guys from the shelter. The problem was that it was $60 or $70 a person. And as a freshman, I didn't really have that money.
So this was the first opportunity we had to ask people for the money. And we were just blown away how God provided. We were able to take 6 guys to Promise Keepers. And they had a great time and it really just opened our eyes to what this could be. With God providing, there are really no limits. So we started, for different things like that. We asked for money in 2004 when we became incorporated; we could get a bank account. And that year, we raised $7,000; did some different events. In 2005 we got our 501(c)(3), and were actually tax-exempt. And we raised somewhere around $29,000. And then the next year $59,000, and then $100,000. And just last year we raised $202,000. So God's just been faithful. He's provided. 95%-98% of our funding is all from individuals, and a few churches.
JS: And tell us about your family.
CC: Well, I'm married. I got married in 2006 to Liz. We graduated together from Pitt. We met each other freshman year, and started dating at the end of freshman year.
JS: I'm surprised you waited that long, that you didn't just get married in your freshman year.
CC: Well, there were some issues. I won't go into details. But there were some issues as to why we waited. We courted. So, actually, when I talked to her, we officially started dating May 22, 2003. So we're celebrating 10 years here in 2 months. But when we started dating, I told her, I don't want to play games; I don't have time here. So, we're going to get married or we're not going to date. And she said, okay. So we kind of had that mentality. But just because of school and her parents and some other things, we just waited to actually get married until 2006.
JS: And, children?
CC: So we have two kids now. Julia is 2.5. She was born in 2010. And then Marcus, we just had in December, he is 3 months old. So yeah, we have a family of four now.
JS: And, is your wife involved in the ministry?
CC: Yeah. I mean, obviously she's been around since the beginning. She worked part-time as our bookkeeper for 2.5 years and has just transitioned off and passed that position on to someone else. But obviously, she supports us in prayer and at different events. She also volunteers with an organization called Young Life, and a ministry of Young Life called Young Lives. And so Young Lives, they minister to teenage moms. And they do a lot of discipleship and mentorship, and it's very similar to the work that we do with the homeless. So, we're able to connect very well there. She got her degree in chemistry; her undergrad. And then she got a PhD in geology.
JS: Oh yeah. That's related to your lives.
CC: Yeah, she studies the Earth, and I study the people of the Earth. That's kind of how it works.
JS: Very good. Tell us about your church home.
CC: So I attend Allegheny Center Alliance Church. I've been attending there, I'm a member, I've been attending since 2003. My wife and I, we got baptized there in 2004. We lead a Bible study of young adults. We've been doing that for the last 4 years. I worked at ACAC for a year, from 2005-2006, I did my senior internship for social work school at ACAC. And developed, what they now call, a community resource team. It's kind of the social work arm of the church. They always wanted a social work department, and so we were able to develop that, that year.
JS: Now for those of you listening or reading, there are more than a few ACAC'ers in the Urban Heroes program. I had nothing to do with it. I did not pad the Urban Heroes with people that happen to go to my church. They just happen to go there. And Charles, yeah, you did a great job in setting up the connections. And that's still going on strong today. And of course, the church loves you. We help you wherever we can. I know people give through the church and you have your annual winter clothing drive. But now, let's talk a little more about L.I.V.I.N.G. Ministry. You've alluded to the fact that you go out and you visit. So talk to us about your ministry philosophy, what L.I.V.I.N.G. Ministry stands for, and what you do.
CC: Well, when we started, I think we were naïve. I was 18. We had the notion that we could save the homeless. And I think a lot of times when we desire to help, that we have that mentality that we are going out to save these people, these lost people, these broken people, these poor people, or whatever. So we spent a lot of our energy, our time, our resources, trying to do that. Trying to get the homeless housing, get them jobs, get them things that make our lives look like ours; normal. Like "regular" members of society.
But, funny thing would happen 6 months later, we'd see the guy right back in the shelter. Smiling, happy to see us, but nevertheless, without any of those things we worked so hard to get for them. And so that kind of challenged us as to why are we focused on those things when the homeless aren't necessarily even focused on those things. And maybe that's not even the real issue behind their situation.
So 11 years of ministry experience has taught us that the greatest need that the homeless have, and really any person has, but the homeless, is for relationship. Relationship first and foremost with the Lord, we believe as a Christian ministry, but then also relationship with others. People end up homeless because of broken relationships. And so instead of trying to alleviate or address surface needs, you know housing, jobs, healthcare – and all of those things are very, very important – we kind of dig down to the root of the issue: where is the relational breakdown? And how can we help point people to Christ, and also show Christ by building an intentional relationship? And so that's kind of our methodology. Instead of, as I've said before we don't really recreate the wheel. We don't have our own shelter where men live, and we come do all these programs and service them.
Instead, we go to where people are already going. So we go inside of the Light of Life's and the Pleasant Valleys and the Eastern Cooperative Ministries, and wherever the homeless are. We go inside of there, because the truth is, those organizations just don't have the capacity nor, I don't want to say the desire, but the effort isn't place isn't placed in building relationships. The effort is placed in servicing people and trying to meet a need and then sending them out. But meanwhile, there's no relationship, there's no follow up, there's no sense of connection. And we serve as the people that provide that.
So while we're at Light of Life Homeless Shelter, we build a connection with the guys that go and sleep there or eat there every day. And from there we can fellowship, we can help people grow closer in the Lord, we do discipleship. We also can learn of some physical needs that they have, and address those. But what we found is that if you base a relationship off of a need, it's not a very good relationship; it's definitely not stable. And you are building more entitlement than you are empowering a person. The truth is, I believe, through Christ people can find the solution to their problems. But without any kind of hope of a person that cares about it, then why make the effort? If no one will call me, well no one even cares if I get an apartment, why get an apartment? But we now are friends with people, and so now they say, now I have some motivation. This relationship is meaningful. I want to have a place where I can invite them over, and show them, and those types of things.
JS: Nice. Makes sense.
CC: That's what we do. We spend our time investing in people. L.I.V.I.N.G. is an acronym, and we have it to stand for "Love Initiated Ventures Investing in Neglected Groups." And, you know, I think from a very basic level, that's what we strive to do.
JS: Now there was a time when you wanted to be like the other homeless ministries, so to speak. You told me that story, didn't you? About trying to have a facility? Tell our listeners and readers a little bit about that.
CC: Well, as with any good effort, I think that Satan is real sly, trying to come in and distort it. So there's a temptation that every organization will go through in its life cycle of wanting to be bigger and better and to be like whatever the next big organization is. And so we're seeing all these different shelters throughout the city, and housing programs, and we're thinking, man, we can do it better. So why don't we create our own housing program. So we tried that.
We housed men for 9 months and had this discipleship program, that in our minds was going to work so great. But, there's a difference between having things just work out in our minds and things actually working out. And so, it didn't work out nearly the way we wanted it to. We found ourselves becoming the very shelters that we didn't like. Because when people live in your house, they treat you as a landlord. And if you have a landlord, you know, you don't show your landlord everything that you're about or everything you do; you hide things.
So instead of focusing our time on the Lord and growing closer to Him and being in fellowship, we spent our time addressing house issues, or addressing inter-personal issues. And so we're not growing. We're just blaming each other, or not wanting to be in the same room. And a lot of that has to do with always being around each other. You know, there's no space. There was no space for these guys. They're spending all day digging deep into the issues of their lives, and then to go home, they are home. So then they have to spend all night thinking about it, with this guy, and then wake up and do it again the next day. So we did that.
After that first program, we took a year off and really prayed and we actually went to a whole bunch of other organizations and throughout the country, and asked them how do you do it. How do you disciple the homeless? How do you really mentor someone with so many prevailing physical needs, and not have it distort the relationship? And every person emailed or called back, and said, you know what, when you find out, let us know. And I said, well, that doesn't help! So apparently nobody really knows how to do it. At least no one I could find.
So, by God's grace, He led us to change some things. And so one of the biggest things we did in that discipleship program was to remove the housing the housing component. So instead of being the landlords, we said, "Look, we'll just keep you wherever you are. You're in a shelter, you stay there. If you're in an apartment already, or getting an apartment, then great, you do that. But we won't even concern ourselves with that. Let's just focus on getting closer to the Lord." And it was amazing, just how that changed so much, getting people's focus off of their need, and more into the other needs that they had: their spiritual needs and relational needs.
So we've been doing this new version of the program for 2.5 years now, and we've seen some amazing results. We've seen people that are pillars of faith in the community, that other homeless men and women are looking towards as examples of what it means to overcome. Not because you have so many days clean, but because you know Christ, and you're living your life for Him. And obedience to His word, and learning what it means to be in fellowship, and use your gifts to bring Him honor and glory. And so it's pretty powerful the things that God is doing.
JS: Now you mentioned we. How big is your staff?
CC: We have four full-time – we call them missionaries – four full-time missionaries, and one part-time missionary.
JS: What's the future hold?
CC: That's a good question. I think one of the things that we're leaning towards is more street outreach. We've been doing this the last few months and it's pretty exciting to see the reception of people under the bridges, in the camps in the woods, or wherever behind buildings, in buildings. You know, some outreach for them; people that would never come in to a shelter. You know, people that come in to a shelter, if you come in to a shelter, you're going to see us. You can't miss us. But if you don't come into a shelter, you could miss us; you could miss an opportunity. So now we're kind of expanding in that way.
But, something we learned a few years ago, that if you're too forward with your plans, God has a way of bringing you back. So we've made plans, of oh this is what it will be, and this is kind of our way, and that's usually when the Lord says, well it's great what you want, but here is My plan. And so we're kind of waiting to see what God wants to do. We have two properties and how to best use those properties to bring Him glory and draw people close to Him. And how we expand our women's outreach in ministry; what discipleship looks like for women. Those types of things.
JS: Well as we wrap up, someone's thinking about making a difference in their world; investing their lives. What words of wisdom, what advice do you give them?
CC: Well, I would say, don't hesitate. I think about Lot in the Bible, and God told Him to get out, and he kept hesitating, and it almost cost him his life. And I think a lot of people, when God puts something on their heart to do, they hesitate. The fear sets in and they start thinking rationally or whatever else comes in, and it doesn't leave room for faith. And then, obviously, without faith it's impossible to please God.
And so I can't tell you how many people that I know, that man, they have this passion to want to make a difference and do something. And they have all these gifts and talents, but, it's almost like the parable of the sower. The weeds come up, the cares of this world come up, the student loan, and what about my family, and school districts, and all these things come up, and God gets put to the side.
And so, they still exist, and they still know God, and probably are saved, but they aren't living any kind of abundant life, and they aren't fulfilling the purpose that God has for them. So I say, when God puts that on your heart, when He leads you to do something, be faithful to it. Step out in faith, because it won't always just fall in your lap. Sometimes you have to go to a city you've never been. Sometimes you have to talk to a stranger. Sometimes you have to knock on a door that you've never knocked on before. But when you open it, it's amazing the things that God will do.


U R B A N H E R O E S