Audio coming soon << Heroes >>
---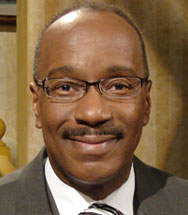 Mitchel Nickols
JS: I'm delighted to welcome my friend, Dr. Mitchel Nickols. And I was saying before we started, we're turning the tables, because usually he interviews me on his show, A Nickols' Worth. Today I get the privilege of interviewing him. Dr. Mitch, welcome to Urban Heroes.
MN: It is a pleasure and an honor, sir.
JS: Well, you're deserving of the honor. And we are grateful and appreciative of what all you do in the community. But as we get started, as we've done in the other interviews, just tell our listeners and readers a little bit about Dr. Mitch Nickols.
MN: Well, I was born in Rochester, Pennsylvania; raised in Aliquippa, because there was no hospital in Aliquippa, Pennsylvania at the time. I am one of three children. I have an older sister named Daphne, who lives in Philadelphia. And I have a twin; I come from a family of twins. Just about every generation there appear to be twins somewhere. I have a twin brother named Michael who lives outside of Chicago, Illinois. And with the tradition of twins, my baby daughter and her husband are now having twins.
JS: Oh, isn't that funny. Congratulations. So you're raised in Beaver County?
MN: Yes.
JS: Talk to us about growing up.
MN: Well, I grew up in Logstown. My father worked in a steel mill, most of the time when he worked, for about 32 years until retirement. He worked at American Bridge, which was in Ambridge. And my mom did a number of things as we were growing up. While we were in elementary school, she went back to college, Geneva College, and finished her undergraduate degree. She had begun that degree back in the 40's, when she came out of high school, at Duquesne University as an English major. My father, they knew each other from high school, but they had not married at that point, and he went off to World War II, and when he came back, I guess they got serious about each other, dated, and then married. Two years later [they] had my sister, and of course, four years after that had my brother and I.
So I was raised in Aliquippa, graduated from Aliquippa Senior High School at that time, and ultimately went off to college, months after graduating from high school. Went to Slippery Rock College, which is now Slippery Rock University. And it was the only school that I applied to, so I figured that it was the only school that took a chance on me. And it worked.
After finishing college, where I got a degree in education, and had some additional course work in communications and sociology, I was given a wonderful opportunity to go to graduate school. And there's a little thing in there, if my uncle, Dr. Melvin Steals were listening or reading this, he would want me to tell this one point, I tell it at a lot of places, including when I teach graduate school.
But when I first went to college, I could not write, and that became very apparent to me. And I borrowed a friend's car, and drove to my uncle's house, which was about 40 minutes from the college. My uncle was an English teacher at that time, and a songwriter. He and his twin wrote for groups called The Spinners, and Gloria Gaynor, and got million-sellers. And it was a traumatic turn in my life in college, when I showed my uncle that evening, I believe that was a Tuesday evening, one of my papers.
He asked me a few questions in his dining room, and when he finished my paper, and I went back to the college campus, I thought there was more red on the paper than there was black. I remember, Dr. John, walking across campus, at Slippery Rock that next day with tears in my eyes, and I thought I wasn't very bright at that point. I don't think my uncle meant any harm, and he and I laugh about it today. But, that became a pivotal point in terms of my trust in believing God to get me over academic hurdles. I had done well early in public school, but somehow fell off the track. After 3rd grade, it was like I just didn't care a whole lot about school.
And I remember saying to God from that campus that day, "God if you teach me how to write, I'll use it for you." Well, ultimately I graduated from college; never took another thing back to my uncle. Ultimately finished my PhD at the University of Pittsburgh, before my uncle finished his PhD. And he and I can laugh about it today, because he said, it worked. Well what worked for me was a deep passion that God gave to me for people who have potential, but for whatever reason were not reaching their potential.
I finished at Slippery Rock and went on to the University of Pittsburgh; I thought it was interesting that one of the things that was offered prior to me going to the University of Pittsburgh to work on a masters in language communications, was an opportunity to become a graduate assistant in English at Edinboro University. Again, here was a guy who was struggling at one point. But God was getting something across to me that greater is He that is in me than he that is in the world.
I didn't take the opportunity at Edinboro. I went on to the University of Pittsburgh; started in special education. The door opened there and then I went into language communication, and ultimately finished my PhD by the time I was 30, in curriculum supervision, and did course work in administration. Did some work also at the Pittsburgh Theological Seminary, somewhere between the masters and the completion of the PhD. So, when I look back over my life, I think about the great things that God can bring out of us, when He gets us to rely upon Him to develop our potential.
JS: And now I'm getting more insight into your busy schedule today. This isn't a recent [thing]. You've always been like this. You've always had a full schedule. Is that accurate?
MN: Well, it seems that way. I didn't always consider myself to be busy. Again, when I worked on my PhD, I was teaching public school. As well as pioneering the church that I pastor full-time now. And my wife and I were having children. So by the time I finished the PhD, I would say I was working two full-time jobs. And watching God do wonders in terms of, I think I came up with about a 3.7 average during the doctoral studies.
JS: So where did the pastoring fit into all of this? Obviously you were on a track for teaching and communications and writing. But where did the call to pastor come in?
MN: I've always attended church. In my early childhood, my parents were Baptist. And I think that came from my maternal side of the family. It was a particular church, a Baptist Church, Mount Olive Baptist Church in Aliquippa. And one of my pastors at that time was a guy named Reverend Asa Roberts, who today is 95 years old and has just retired from pastoring in New Kensington.
And so, the real relationship towards ministry began at the age of 16 when I made a serious commitment to the Lord, one Saturday evening at a prayer meeting at what was the First Church of God in Christ, on Griffith Street in Aliquippa. I had no intention of going there, but something drew me to that particular service that Saturday evening. And when I was asked if I wanted Jesus in my heart, I knew I wanted the Lord, I just wanted to delay it. But I gave my heart to the Lord. And that began this whole road for serious commitment to Christ as well as a sincere interest in ministry.
JS: And did you pastor before you started the church?
MN: I did not. The church was my first leap into it. Bishop Loran Mann, who wasn't a bishop at that time, I went and told him of my interest. He was very instrumental in making sure I received my credentials. And I began to, as they called it in those days, starting a mission, even though it was a home mission. And we started the mission in our home. My father-in-law had passed away in Brackenridge, Pennsylvania, so we started down there, as my wife and I moved in, without kids at that point. And I started the church then and the church just began to grow. And it was, and still is, a multi-racial church.
JS: Good for you. Now because your in-laws were from that area, was that the main determination of why you wanted to be there? What else were you seeing in the way of a need in that area for a church?
MN: Well, we started as a Sunday Bible study, and I was teaching school just a few miles away in New Kensington. So, we wanted to have a Spirit-filled church in our particular area.
JS: And so that was it? The Lord didn't appear to you and say, "Plant a church on this street corner?"
MN: Not in that particular sense! No. As a matter of fact, I was reluctant. I was young and didn't know everything that was involved. But I always watched pastors as I was growing up. And when I became a Christian when I was 16, I always committed to the work of the church. So I got a lot of experience with now Bishop Melvin E. Clark in Aliquippa.
JS: Oh yes. The Church in the Round!
MN: Yes, The Church in the Round, which became the success of the First Church of God in Christ. So I got a lot of exposure and I began to develop into ministry in that particular way.
JS: And so what year did you start the church?
MN: I would say, 1978.
JS: And what's the name of it?
MN: Between 1978 and 1979. It's The Bible Way Christian Fellowship. We started between that time. My father was still living and he went home to be with the Lord, August 3, 1978. I was credentialed in '78. And we had already begun the work towards the church. And the church became a 501c(3) in 1979.
JS: Now you pointed out, you made a special effort to point out that the church is cross-cultural. Why is that important for you to mention?
MN: When I think of heaven, I don't think of one race of people being in heaven. When I think of the love of God, I think that God loves everyone. The unfortunate thing people don't always know or embrace is the kind of love that He has for us. My family, as I go back, even as far back as I recall with my great-grandfather, George Williams – my maternal great-grandfather George Williams in Youngstown, Ohio was white. My great-grandma Fanny was definitely black. So the mixture of the races of people was nothing unknown. One of my great-cousins, or second cousins, was married to a woman from Spain at one point. And so I saw that as a natural thing, and still see it as something natural to be able to minister to a cross-cultural church.
JS: I know you're a spiritual man. But your talk and your spirituality is so natural. Just as you were talking about your family being mixed, therefore you just transitioned in your thinking that your ministry should be mixed. I mean that's something that I really appreciate about you, and that really stands out in your work. You just seem to be comfortable in your skin and with who you are and how God leads you.
MN: I think it's important - and I thank you for making that comment – I think it's important that all of us become comfortable with who we are and really tying our identity to who God says we are and to what God says we can become.
JS: As an African-American pastor, have you done anything intentionally or proactively to help your church be cross-cultural? Or is it just something that God has done?
MN: It's two-fold. Obviously it's something God has done. But regardless of a person's race, everybody wants love. So we love a lot of people, in a lot of different ways. Part of my passion, Dr. John, obviously is tied to the education or deficit that I referenced early on.
So I'm passionate about people, and it came out in my public school teaching before I gave that up. It was evident when I taught at the community college of Allegheny County; the Boyce Campus for about eight years, teaching philosophy, religions of the world, history, and sociology. It is also evident in the things that I've done for Geneva College, teaching in the Adult Degree Completion Program and courses in all four of their majors: organizational development, human resources, community ministry, and human services. As well as for about the last 13 years, mentoring graduate school students in Geneva Colleges Leadership Studies Department.
JS: So, you are a busy man. But you've brought the same philosophy in everything you do. Talk to us about your area and community. I know you're doing more than pastoring, just in community. You brought me up one time to do some Weed and Seed teaching, or training. What's your philosophy been in your community involvement up in your local area where you pastor?
MN: In my area, people know me obviously as a pastor. Some recall me as an educator from when I taught in the public schools. I do consulting work in the area. I run a funded program at Valley High School in New Kensington, that is a drop off prevention program. It's now in its fourth year of funding, to try to get kids to graduate. But I'm also an advocate, a community [leader] that when people are in trouble, it seems that my name is one of the names that comes across their lips.
Whether it's going into the prisons, whether it's going into juvenile facilities in Allegheny County or Westmoreland County, state prisons, county jails. It includes kids that are just in trouble, so I developed a relationship with those juvenile authorities, especially in Westmoreland County. Any number of the judges in Westmoreland County know me, so God gives me favor when I'm in their courtroom. And many times I'm asked what the outcome of the case should be, so that we're able to do what we need to do there.
So I do a lot of community advocate kind of things. If a person is in trouble, then I'm one of the people that they come to. I recall a question that the late Russ Bixler, founder of Cornerstone Television, asked me some years ago as I have served on that board of directors for more than 20 years. Russ said to me, "Did you ever think that with a PhD, you'd be dealing with the kinds of people that you deal with?" And my response to Russ, was, "To whom much is given, much is required."
So part of my passion is putting into action, that which God has entrusted in me, in terms of my ability to write or my ability to speak, or to become an interventionist in situations. Sometimes advocacy, where people have no one to stand up for them, and they need a voice to speak on their behalf, where I become one of those people in my community at large. And God, again, has given great respect and favor as a result of that.
JS: Let's go back. You mentioned early on, your encounter with your uncle when you were at Slippery Rock, and as a writer, and what a profound effect that had on you. How has that played out now in your adult life. Where are you using that breakthrough in communication to fulfill your purpose and what it is that God wants you to do?
MN: I've got a list of book titles, some books I've started that I need to finish; I've got probably about 30 book titles that God has given to me. And some of the books, Dr. John, I even have the chapter headings. I began to write for the local newspaper, The Valley News Dispatch, when it was a part of the parent paper The Gannett Newspaper, that was also part of the USA Today, which is now a part of The Tribune-Review in Pittsburgh. And I began to write columns as a community columnist for them, just a little more than ten years ago, and became an award winning columnist.
JS: Wow.
MN: So when we talk about what God can do, it's all about the potential and how God can impact one's potential once we surrender to His will.
JS: And talk to us a little bit about some of your other communication efforts. You mentioned CTV, but I know your role there is beyond a board member. Talk to us about that.
MN: Well, over the past so many years, obviously again, I've served on the board of directors. When we lost our president, Ron Hembree, almost three years ago now, I was vice-chairman of the board, which then put me in a position to act as chairman of the board. And when needed, I wound up running the day-today operation, during which time the CFO retired and moved back to Illinois. So for a space of at least 6 months, I oversaw all of the financial as well as day-to-day operations of Cornerstone Television. I served in some other capacities there, even when Ron Hembree was there as strategic chair, for the board. Even to this date, I'm vice chairman, and I chair the programming committee. And I'm still working with some strategic things as we work through the process with our new president, Ron Black.
JS: But you had another role there too. Tell us about that.
MN: I don't know if you're talking about the A Nickols' Worth program? The A Nickols' Worth program has been running about 13 years now, and it is a program that is seen around the country. I did not come up with the name of it. There were staff members at Cornerstone Television that had worked together and came up with about 70 names that the program could be called in its inception. We narrowed that down to two names: Nickols Makes Sense or A Nickols' Worth. I don't wanting somebody assessing whether I make sense or not.
JS: Haha! But you do, brother, you do [make sense].
MN: But it became A Nickols' Worth, which is a play on words as you know. And on that particular program, we make sure that I bring in guests who have either academic or experiential knowledge that will enhance our viewers. It's based upon an Old Testament scripture that says, "My people are destroyed for lack of knowledge." So the program gives people practical information that can be used on a daily basis. And I run into people all over the place, and sometimes outside of the city of Pittsburgh, outside of Pennsylvania who have watched the program. And they tell me what they think of the program and what they think are its benefits in their lives.
JS: And is it a weekly program?
MN: It is a weekly program. It's seen four times a week at this particular point. And I don't want to give the exact times as they are always moving those times around. But typically Sundays, Tuesdays, Thursdays, and Saturdays at various times during the day. And, I have been probably for more than a year now, working with the flagship program at Cornerstone Television, which is currently called Focus 4. The title will change at some point, given the new president. But I've been the host of the Tuesday call-in program, which has been seen around the country. You have been a guest on that program. And people call from California, New York, West Virginia, Texas, Oklahoma; people call from all over with questions that are pertinent to their lives.
JS: I have had the privilege of being on A Nickol's Worth on more than one occasion, and I've always complimented you on your interviewing skills. What's your philosophy when you're sitting across from someone, and you want to draw out of them what's in them? What's made you so effective, in your thinking?
MN: I think in part as the producer and host of the program, nothing happens on that program without my input, in terms of selection of topic or guest. So I have a sense of what I would like to get from the program. So how does that play on pastoring? That particular program is mostly a non-preaching/teaching program. So the kinds of things I have to deal with, and many other pastors have to deal with in their churches, that are not addressed across the pulpit, that's what A Nickol's Worth program does. I'm in preparation now, for a series of programs that will be faced in a few weeks, less than a month now. So I'm looking at something on bullying, I'm looking at another program on elder care, where there are decisions that people have to make as senior citizens.
I'm looking at a program on domestic abuse. I'm looking at a marriage program, and the list goes on. I'm looking for certain types of programs that when people want advice, and when they want resources, that particular program brings those things to them. What I try to do is pull out of the guest, someone like you, who has expertise. I pull out of you what I know is in you, so that it benefits the people who will hear and watch the program.
JS: Well, you're very low ego. I've done my fair share of interviews. And very often, I've driven long distances to be on a show, only to have the host do all the talking, and at the end, thank me for being there, and send me on my way. But you've always given a lot of room to talk and for me to share. Is that a philosophy of yours? Do you carry that forward not just in your interview, but in your teaching?
MN: As we understand, Dr. John, servant leadership. If we understand what Jesus is all about in the Bible. One of the courses I've taught for Geneva College's ADCP program is "The Church in Its Community." I believe that ministry really isn't as much about me as it is about you. So my role is let's let the guest talk. It's not about me, because, just like John said in the Bible, I must decrease and He must increase. It's really not about my personality or who I am. I think that comes across with the compliment that you just paid me, where I'm able to somehow enhance what a guest brings to a program. It's all about the information. You cannot make quality decisions without quality information.
JS: And you certainly provide that as a teacher, as a pastor, as a lecturer, broadcaster, writer, and all the things that you do. And I'm just glad you share all of this because it just doesn't happen. It's not part of the heavenly Jerusalem, as I call it, doesn't descend from on high. You've made it happen. It's been a philosophy. It's part of your value system. It flows out of you very naturally. And so, we could talk for a couple of hours, and probably need to at some point, so we can get the full story of you and what you're doing, and your teaching. But I'm going to go ahead and wrap this up. What words of wisdom would you give to someone who's at your point where you were 30 years ago and is thinking about the urban setting and thinking about making a difference? What words of wisdom would you have to tell them today?
MN: I think that we must always see ourselves as a sponge, and allow ourselves to absorb the good and the bad experiences that God so graciously affords us. Because in the end, those kinds of things are going to enrich the lives of so many people. Whether all the things that we've mentioned today, or the administrative coaching, the executive coaching, that I get a chance to do with administrators, with executives. Coaching them and giving direction. Wisdom is something that comes out of all of our experiences in life, once we have learned them internally.



U R B A N H E R O E S