---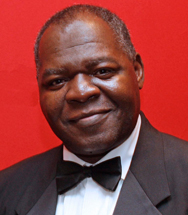 Oliver Byrd
Oliver Byrd retired a few years ago after a long career with Bank of New York Mellon, but not before he made a deep impact on the Pittsburgh community. He spearheaded the effort to build the August Wilson Center after having served as United Way Chairman in Allegheny County. Of course, he is the husband of Urban Hero Karla Threadgill Byrd, and serves on the faculty at the Center for Urban Biblical Ministry, teaching math and business subjects..
KB: Our next Urban Hero is someone I have known very well. I've known him for years! He is a Christian and a devoted family man with two wonderful daughters and a grandson. He grew up in the Pittsburgh area where he attended Westinghouse High School, went on to Harvard, worked for IBM, and returned to Pittsburgh to do his life work in the city. He has done all that and is now retired and enjoying himself. And this Urban Hero is Oliver Wendell Byrd, my husband.
JS: Thank you. Karla gave a thumbnail sketch about you. Tell us about growing up, where you went to college, and then we'll go back to fill in the gaps.
OB: I am a Pittsburgh native and grew up in the Homewood Brushton section of Pittsburgh. I attended the Baxter Elementary School and went on to attend Westinghouse High School. Westinghouse is probably the place where I got a lot of my grounding. I was president of the student body there, captain of the chess team, and first trumpet and first chair in both the orchestra and the band. I really enjoyed the experience of meeting and getting to know people there. At that time, high school went from 7th grade through 12th grade, so you really had a good opportunity to establish a lot of relationships. From there I went to Harvard University on a scholarship, and majored in math and social psychology. It was a great experience. While I was there, at the age of 19, I had an opportunity to work at the NASA electronic research center in Cambridge and was exposed to some of the greatest scientists in the world. At that time, we were still working on lunar landing modules and things of that nature and it proved to be a great experience. It was also a time that was pretty troubling in our country. During the time I was at Harvard, we saw the assassination of Dr. Martin Luther King, Jr., the assassination of Bobby Kennedy and a number of things that caused a lot of campus unrest. The Vietnam War was still going on. I saw both the greatest that one could see in terms of academic pursuits as well as a lens on the real world that we all live in, and that we were all going to come to be leaders in at some point in time.
After graduating from Harvard, I went to work directly with IBM corporation as a systems engineer in Cambridge, Massachusetts. I did that for two or three years and decided it was time to come back to Pittsburgh. I came back and achieved a master's in business administration from the University of Pittsburgh's Katz Graduate School of Business and began working in the area of community development, small business consulting, and things of that nature. My concentration in graduate school was finance and economics, with a minor in human behavior and organization. I have had a pretty long and varied educational career and travels, living not only in Pittsburgh, but also Boston and New York.
JS: Before we go on to the next question, was it a dream Harvard? Or did it unfold later in your high school experience? Talk about how that came about.
OB: It wasn't a dream, per se. Academic excellence was always a requirement in my house and certainly in terms of my own values and goals. I did fairly well in high school and grade school. I guess I came to be recognized throughout the city as someone who had the potential to attend a school like Harvard. I hadn't thought about applying or anything, but I had a counselor at Westinghouse High School who many people will remember and have had an opportunity to interact with over the years. Her name was Dr. Helen Faison, and she is the one who really encouraged me to place an application to Harvard. She thought that academically I had the credentials to be accepted, though obviously it was a long shot. You didn't see very many African Americans at the Ivy League schools. And speaking of Dr. Helen Faison, she is someone who has followed me in my career, from the very early stages of my life.
JS: So, important to have a mentor you think? Did that help you to become an Urban Hero?
OB: I'm not sure what made me an Urban Hero, but I will say that is important to have people in your life who you can rely on, to go to and model your own behaviors after, whose values are ones you support, admire, and can adopt as your own. Back in those days, we didn't necessarily call it a mentor, but certainly Dr. Helen Faison did play that kind of a role for me, as did a number of other individuals who were attentive to the kinds of obstacles and opportunities presented to young African Americans at that time.
JS: Talk to us a little bit about when I got to you know you at Mellon Bank, which is now Bank of New York/Mellon, which led you to quite a bit of community involvement. Talk to our readers about that aspect of your career.
OB: When I think about my career, I think of it in two parts. One would be the vocation and the other would be the avocation. BNY/Mellon would be a good example of a vocation where my focus has always been problem solving, using advanced analytical techniques. I happened to pursue that through banking. I was an employee of the Bank of New York/Mellon for 35 years, before retiring not too long ago. That gave me an opportunity to volunteer in a number of different capacities here in this city. My avocation happens to be working with those who are under-represented, those who are disadvantaged, and using those skills or whatever talents I bring to bear on solving those kinds of problems. Specifically, my work has involved health and human services, along with the arts.
JS: What were some of the aspects of some of the avocation that you got involved in for I know there were some significant ones?
OB: I think the one that a lot of people would know about would be the 20 plus years I spent volunteering with the United Way of Allegheny County. I spent those years learning about the individual agencies and learning about the health and human service challenges that we face as a community. In that time, I spent 10 years as a vice chairman of the board in overseeing resource management. I completely revised the management review and enhancement system, which we eventually outsourced to Robert Morris College.
And at the same time, spent two years as its chairman of the board. I had a real opportunity to get a sense of the types of problems we face as a community, whether talking about race-related issues, societal issues which have to do health outcomes and the role of caregivers in that entire process. I got to know a lot of agency executives, a lot of the agencies themselves, as well as a number of recipients of United Way support. That was a very meaningful experience for me and really was consistent with the idea of working to help others who are in need of our support. Probably one of the more important accolades that came out of that was being named the United Way Volunteer of the Year in 1994 for my work in overseeing in fund distribution over the years. We distributed more than $35,000,000 in health and human services grants to United Way agencies over each of some 20 years.
My other avocation happens to be art and culture. And it's a love of mine going back to the days of being a trumpet player in an orchestra and the band, and even playing in a funk group back in my Westinghouse days. Arts and culture are incredibly important. In our community, when we think about quality of life, we can't think about it without including arts and culture as a way that people identify themselves, their roots, and their role in society.
I have spent a number of years, probably as many years in supporting arts and culture, as I've spent in health and human services. And as many years in arts and culture as I spent in the financial services arena. I'm probably known for my work with the Multi- Cultural Arts Initiative, which was a supporting organization of the Pittsburgh Foundation and the Heinz Endowment. Over a twenty-year time period, we raised and distributed about $7,000,000 in grants to various arts and cultural organizations, specifically African American arts organizations, in order to have that aspect of our society and that aspect of our artistic and cultural contributions be seen in the same way that those of the majority population are seen.
Beyond that, there was a passion for having a physical representation of African American art and culture, and I spent probably 12-15 years working on the development and building of the August Wilson Center for African American Arts and Culture. In that process, while they said we couldn't do it, we raised more than $35,000,000 specifically for the building and operation of the center. The total cost was $42,000,000, so we still had a ways to go, but certainly we raised more money for this particular project than for any other African-American project in the history of the region.
JS: Congratulations, for it was just a wonderful effort. I know it's gotten politicized of late. In my mind, I'll never let it tarnish the efforts that you put in along with so many others. The Multi-Cultural Arts Initiative got the Urban Heroes program started. If you remember 2010 or 2011 as that was winding down, we got a $6,000 grant to produce the first volume of Urban Heroes. We had our celebration at the August Wilson Center. And it was a highlight for me of my involvement with CUBM and the community. We were the beneficiaries of your efforts there Oliver, and we want to thank you for that.
KB: The other thing we want to mention is because of that grant, we've started a publishing company so that African American people can tell their stories, share their thoughts and also their theology. Who influenced to do what you do?
OB: It really was a number of people who influenced me. I'm a thief, in the best sense of the word. I look at the best characteristics of people with whom I come into contact and steal from them, those elements of their personality and life's work that I think would be useful in my own life. Therefore, I've looked at people like Dr. Helen Faison. I've been influenced by local people like Jim Roddey and Marty McGuinn, who was the chairman and CEO of Bell & Bank Corporation. I've looked at people like Martin Luther King, Jr., and the sacrifices he made serving underserved communities and underrepresented individuals. I've looked at a number of people, high and low, as examples of the kind of person I wanted to be and as a way of seeing he path that I would ultimately take in life.
JS: You mentioned Dr. King. Were there other authors or significant figures, not just contemporaries, but of the past whose lives you tried to emulate and whose values you incorporated into your work?
OB: I can identify a number of people. Among those are people like Medgar Evers, who gave the ultimate sacrifice in trying to support those who were less fortunate in this society. I think about people in the arts and entertainment field who were blackballed during the McCarthy era who wanted simply to practice their craft, but were not able to do so because of a political view that suggested they were communists, or something of that nature. Again, I've been a thief, stealing from all of them.
More recently, the three influencers who have driven my own values and have anchored my own life work are, as I mentioned, Dr. Martin Luther King, Jr., who demonstrated to me that faith in God and concern for the oppressed amongst us, and the courage to face adversity were critically important.
Then there was a Dr. Herbert Simon, who most people don't know about. He was a professor at Carnegie Mellon University back in the '60s and early '70s. He is considered the father of artificial intelligence. Dr. Simon demonstrated a different approach to problem solving. He pursued excellence in everything he did, and demonstrated the importance of being rooted in a disciplined approach to problem solving in whatever role he was playing in society.
I have mentioned and need to continue to mention Dr. Helen Faison, because she has been a part of my life from its earliest stages. Her stature as a leader in our church helped me understand the concept of a leader as servant. Even with her incredible credentials professionally, it was her personal life example that impressed me most. Last, but not least, she was always encouraging me in everything that I did. Knowing that a person of her stature was following my every move, advising me to always tow the line and encouraging me to take measured risks in life, I could not do anything but be involved in the community. She had an involvement in so many organizations, because she was asked to be involved. She didn't have the time to do all those kinds of things, but she tried. And those were the kinds of behaviors and examples that have driven me in the direction I have taken in life. You just can't say no sometimes, even though you don't necessarily have time.
JS: It's been said that If you want something done, give it to a busy person. The other thought I had was there is a book titled Steal Like an Artist. That book points out that all of us are impacted by things that we see and examples we have beheld. There's nothing wrong with assimilating the best of what we see and assimilating them into a life philosophy, which you have done so well. You mentioned church. You are still in the church you grew up in. Correct?
OB: Baptist Temple Church was about three blocks from where I lived the first thirteen of my life, and I still attend there. It's an important community beacon of hope for Homewood Brushton and for Pittsburgh. I think it's important that we continue to work with community churches, not as opposed to, but in addition to, the mega churches that have come to be very popular these days. Baptist Temple Church in Homewood has been around since 1921, and personally I have had the opportunity to be a teacher in the Sunday School, the superintendent of Sunday School for seven years, and also the chairman of the board of trustees for about seven years. Today, I continue to serve as a trustee of the organization and the chair of its overall budget committee.
KB: As we look toward the future, what are your plans?
OB: Oh, I've always been more interested in the journey than the destination. A few of the guiding principles regarding my future are as follows. I want to let God use me in the ways that He would have me to serve; to try and be more active in supporting the Baptist Temple Church and my pastor there, Rev. Rodney Lyde; and to pass along my life lessons and experiences to the next generation of black leadership. I've been working with the church in terms of its property expansion and growth into the next century and that sort of thing.
I've also been trying to pass on the lessons learned from initiatives like the Multi- Cultural Arts Initiative and the United Way and the August Wilson Center, to those who came after me who are today's and tomorrow's new leaders. I'm looking forward to those kinds of activities as opposed to having a specific goal that I've set for myself. I enjoy teaching and research, so I will continue doing those kinds of things. I love being a consultant and will continue to consult.
KB: As you're thinking about that, what advice would you have for someone wanting to follow in your footsteps?
OB: I'm not sure I'd encourage anyone to follow in my footsteps. If anyone wanted to, however, I'd say there are six things that are guiding principles for them or the advice that I would give. One, I would say surround yourself with good people, especially people who are smarter than you are. There's no shame in having someone smarter than you around, because it's from them that you learn, and it's from them that you refine whatever direction it is you are headed in.
Two, don't believe those who tell you that something can't be done, merely because it's never been done before. If we thought that way, we'd never accomplish anything new.
Three, stay humble. Over the course of a lifetime you get a lot of rewards and acknowledgements for the work that you do. Just as fast as you can go up, however, you can come down, because you become a target. Especially as an African American leader, you become a target of the system that tries to undermine its African American leadership in order that the system might be maintained. Make no mistake about it, my objective in life has been to change the system in a way that is beneficial to everyone.
Four, be open to learning new things. Even as you lead others in the way that they should go, you've got to keep learning, studying and stay at the leading edge of technology, health and human services issues, of our Christian thinking and things of that nature, world events, and economics in order to do your best work. Fifth, I would say maintain your integrity. And finally, strive for excellence in everything you do.
JS: What have you been reading lately? What do you like to read? Do you have a reading strategy or philosophy?
OB: I do, but it is clearly not something a lot of people would like to follow because I love reading technical publications. That includes things that have to do with artificial intelligence, or with futurism strategies for defining what our future is going to be, or techniques to discern those kinds of things as they trend. I love reading books that have to do with personal struggles people have overcome and become a good story for others -­‐ the ways that people have sacrificed and taken life's lemons and turned them into the preverbial lemonade. I love those kinds of books.
I like reading the Bible because as is true with many folks, the most important things I've learned in life I learned in Sunday School. The Bible really has taught me how to live my life and how to make decisions as I move through life and has helped form my own worldview.
I also enjoy the classics. I'm a big fan of Fyodor Dostoyevsky, who wrote The Brothers Karamazov. I'm a big fan of some of the authors who were prominent during the '60s and '70s, people like Arthur Miller and Edward Albee. I love the Greek classics, Aeneas and Agamemnon, and things of that genre. They can include strange kinds of things that are reflective of my reading philosophy of being eclectic. There is something we can learn from every discipline, and we shouldn't limit ourselves to merely one area of study or one area of reading in order to understand the world that we live in.
JS: Apart from the Bible, which author impacted you the most?
OB: I'm going to say that it was probably Langston Hughes, an African American author, noted for his work during the Harlem Renaissance years. His writing was reachable. It was accessible to the common man. And yet, it also contained lessons to be learned by the leadership, not only of this country, but of the world. I think Langston Hughes' work, in general, also stimulated the work of several other authors. I enjoy his work particularly, but I also enjoy the pure literary genius of someone like James Baldwin and some of the work he produced. I was also impressed by Frederick Douglas and his work. I could go on and on about authors who have influenced me with the work that they've done.
KB: Let me see if I can guess this one. What's your favorite Bible verse?
OB: "I can do all things through Christ who strengthens me," which is Philippians 4:13. That is my life verse, but we had others we said in Sunday School that guided my approach to studying the Bible. One of those is 2 Timothy 2:15, which says "Study to shew thyself approved unto God, a workman that needeth not to be ashamed, rightly dividing the word of truth." The importance of that is if you are going to be an advocate and disciple of Jesus Christ, you've got to know His word. You cannot know his word except that you study His word and correctly interpret His word or respond to questions about His word that are asked by those who are not saved.
And as the second part of that, for the Sunday School, "Go ye, therefore and teach all nations, baptizing them in the name of the Father, and of the Son, and of the Holy Spirit," which is Matthew 28:19. That one was important because as a Sunday School student, as a Christian, if you ask the question what you should do, Jesus made it very clear through His disciples that He wanted them to go out and disciple – that He wanted them to go out and bring people to Him. They didn't have to do anything to get them saved. All they had to do was bring them to Him. That particular Sunday School verse was important in my life and important in directing the Sunday School program in terms of new Christians coming to life in Christ.
JS: Oliver, I'm sure you saw the movie Selma. Talk to us, not only about the movie, and what it represented for you in your life journey.
OB: Selma was a very important piece of work. I saw it and it was disturbing and troubling, but at the same time it was very well done. It was a good representation of life as we understood it back in those days. I think one of the things it points out clearly is the importance of television in our society. Television made the Selma story available to the entire country so we could see the kinds of horrors that were being perpetrated on African Americans in the South, and indeed throughout the country. Not everyone knew that because information was limited.
One of the things that made Selma so personal for me is that in my sophomore year at Harvard, there was a classmate of mine whose name was Bobby Gaines who was from Alabama. He went home for the summer, as we all did, and while he was home in Alabama, he strayed into the wrong area and ended up being lynched. That was the first real personal sense that I got about racism in America and what it meant in terms of our vulnerability and why we had to continue to work to overcome the kinds of racist policies and behaviors that were causing us all to suffer.
That was followed by the assassination of Dr. Martin Luther King, Jr., the riots and all those kinds of things. So when you see a movie like Selma, historically what you see is a people taking a non-violent approach to gain their rights. You see a leader who has been jailed and ridiculed, accused of every manner of poor behavior, but who stood tall through non-violence, guiding our people towards the attainment of their rights. Therefore I think it's an incredibly important story that should be seen and discussed in a context. It's not enough to just see the movie. You have to have some conversation after the movie to understand its importance in the life of every American, and not just African Americans.
JS: Mrs. Byrd, the movie begins with a depiction of an event that changed your life, doesn't it?
KB: Oh yes and that was the girls being killed in the Birmingham church bombing. I just couldn't understand how people could love God but then kill someone while they were worshipping, especially children. As I were talking the civil rights tour in 2013, I went to the church, saw where it happened and talked to the young woman who was not injured because she left the restroom. It just keeps me in mind that as a group of people, we have to keep these things before us, otherwise history will repeat itself.
OB: I think we're pleased at the progress we've made as a people in actually being a part in every aspect of American life, but we can't afford to forget what we came through, and what we came through not that long ago.
JS: In Israel, every person who serves in the military – and every man has to serve three years and every woman two – one of the last parts of their basic training is to go up to the top of Masada where the Jews were surrounded by the Roman in 70 Ads. Before the Romans took them, everyone in Masada had committed suicide. The military recruits are confronted with the theme from Masada, which is "never again." Israel has done a great job with their technology and agriculture in maintaining the past, while at the same time moving forward. We certainly want to see the same dynamic for our African American community. Oliver, you have taught at CUBM. Talk to us about the experience of teaching.
OB: I love teaching. What I really wish to do as a retiree would be to teach. I have had a lot of teaching experience. I have taught at Chatham College, and the class was on the economics of black community development, way back when that topic wasn't popular. I have also taught for the American Banking Association, a marketing and bankers course, for about eight years.
One of the more interesting experiences I have had teaching is at the Center for Urban Biblical Ministry, particularly because the student there isn't your traditional student. These are students who often are older, work full jobs and carry on full lives with families. And yet they are eager and thirsty to learn and continue learning. I have taught courses there such as micro and macroeconomics, as well as accounting, finance, and computer technology, and courses like that. It's been a real job to teach them, especially to teach them with the idea that we are Christians. And so the perspective that we take and the examples we use are often out of our Christian experience, as opposed to the kinds that you typically see in other institutions.
JS: And you would be a natural for online teaching because of your love for technology.
OB: Online education is a major part of our future. When I talk about futures and the predictions we make, most people think about John Naisbitt and his book Megatrends from a couple decades ago. One of the megatrends today is the availability of education to anyone and everyone who wants it. Due to technology, we can go to the Internet and learn about practically any subject we desire. The fact that you can do it remotely like that means that you can have access to the greatest minds in the world while you are sitting in your dining room.
I was fortunate at Harvard to be exposed to some of the world's greatest thinkers. I didn't mention a lot of them, but people like Dr. Ephraim Isaac and people like Vernon Jordan, Jessie Jackson, were all there at one time or another sitting at the dining room table. We had a soul table, and we would talk about the issues of the day. And to be able to do that one-on-one like that in a personal and intimate kind of way was really important. Today, with online learning, you can still do some of those kinds of things and do it with a wider audience than was ever possible.
KB: One of the things I am curious about is if you have a life defining moment or a life altering experience that you can share with us.
OB: I think probably the single biggest life altering experience was the death of father. He was 57 years old and he died three days following my 26th birthday. That was significant because it was the first death we had experienced in our family. It truly was like altering because it meant that because family was so important to myself and my family, the loss of a member of the family was quite traumatic. Within the past 365 days, I've lost my mother, my favorite aunt, and my older brother – they have all gone on to glory. That's a good thing, but it's also really traumatic as far as life-altering experiences. Life will never be the same again, but one of the lessons we learned from that is you have to carry on. We don't know God's purpose for anyone, but we trust in Him, that whatever He has done, He has done for a reason. Sometimes it is merely that we should know that He is God and that He has something in store for each and every one of us. We need to go on and continue to do His work and His will here on Earth.
JS: Oliver, what did your dad do?
OB: My dad was a steel worker! He started out as a third helper at the Homestead Works of United States Steel. He worked there for 27 years.
JS: And you had two brothers?
OB: Two brothers. An older one and a younger one. The older one passed away in December of just last year.
JS: And they all stayed in Pittsburgh? Or did anyone leave?
OB: My younger brother and I are born and raised and still here. My older brother moved to Philadelphia/New Jersey, probably about 25 or 30 years ago, but he has always been in touch with us here in Pittsburgh. He had a tremendous career as a journalist as an assistant city editor with the old Pittsburgh Press for which he wrote about the black experience in the Roto Magazine here. He was also an editor with the Philadelphia Enquirer and also Bloomberg News, the company from which he retired.
KB: And he also wrote a book about Oliver's Family called Out of Georgia, where he researched the family. I have several of those books still with us. That's part of him telling his story for his family.
JS: Talk about your mom and what role she had in your development. Obviously there were very high standards academically and spiritually in your home and family. Talk to us about your mom's role in that.
OB: Well, like many people my age, no matter what you did Monday through Saturday, on Sunday morning you were going to church. Mom was the one who made that happen. She herself was a good Christian and attended the Baptist Temple Church for all of her adult years here in Pittsburgh. She was also one who prided herself in academics. She didn't have the chance to go to a formal college in her college-age years, but she was good in high school and great academically.
One of the things that she used to embarrass us when we did something at church called Scripture memorization. People were to memorize a portion of Scripture and recite it to the entire Sunday School. Well, sometimes when you do it so often, you tried to find something nice and simple and short to recite. Well, you can't get away with that when your mom, who is 80 or 90 years old, is standing up there reciting an entire chapter of the Bible from memory, from any one of the books from the Old and New Testament. She set a standard that was pretty high in terms of her own personal performance in academics. She made that something that we, as her children, had to focus on as well. She was the one who understood the value of education.
JS: Where did you get your love of sports from?
OB: My love of sports came from growing up in the age of the Pittsburgh Pirates and Roberto Clemente, and the Steel Curtain. Also I was immersed in the time when the Westinghouse Bulldogs were the champions of the city league in football and track for 20 or 30 years in a row.
JS: Oh yeah. Year after year, I'd read the sports page and read about the Westinghouse Bulldogs playing in the city championship game. The Westinghouse Bulldogs wouldn't just win, they'd annihilate anybody that dared venture on to the field with them. But your mom was a baseball fan too, wasn't she?
OB: My mother loved baseball. After a while I was able to get the corporate box at the stadium, and she wanted to go all the time. Regardless of where we were seated, she would watch the game from beginning to end, and knew all the players and what their stats were and those kinds of things. She loved baseball, especially Pirates baseball.
KB: One of the questions I am curious about is what your favorite community organization is.
OB: That's a real tough question for me, because I worked for so many community organizations over the years, and I so appreciate what they all do. It's hard for me to name just one. I can say that I love what is happening at Hosanna House. I love what they are doing at the Kingsley Center. I love what happens with the Spina Bifida Association. The areas I've seen people work in, in the specific diseases area with the health and human services, and in the arts with organizations like Hill Dance Academy Theater. I am impressed by the sacrifice that people make to provide those kinds of services in our community. And so it's really sort of unfair to really try to identify just one. I continue to be a big fan of the United Way and also the Carnegie Library of Pittsburgh. I think it's such an important organization in our community.
JS: Oliver, in light of current events, Ferguson and other places, are you optimistic? Are you concerned? Are you both? How would you describe your mindset to the current environment where reconciliation and/or advancement of African American possibilities are concerned?
OB: I think there's a real danger where we are today. It's wonderful that we continue to make incredible strides in terms of accomplishments for not just African Americans, but other under-served populations. That's good. We've already demonstrated that there is no role that an African American or others cannot play in this society, so I am pleased with that. But at the same time, the spotlight is on law enforcement, along with some of the inequities that exist in our society; income and equality, healthcare, and things of that nature.
What is incredibly important to me is the danger that exists at our knowing and not doing anything about unarmed African American shot by police. We know that the entire police departments of our country are not all bad, but we also know there are some rotten eggs. The frustrating thing is we don't seem to be doing anything about it. When we continue to see these examples and no difference in the outcomes, in that no one is indicted or prosecuted for these crimes, it is very discouraging. And I'm afraid that it is going to cause an element of our community rise up and say that they can't have this anymore. If the law enforcement agencies won't protect us, we'll protect ourselves.
Laws that have been passed, such as "I thought there was a risk of my being shot, therefore I am standing my ground" have shown to be very, very dangerous in the past already. So I am concerned about our future and how we go about trying to address race in our society. President Obama has brought it into the spotlight and made his comments regarding it, but we need to be careful and recognize that a person, even in a leadership role, cannot necessarily solve the problems of our society.
KB: You've received a lot of awards. Do any stand out in your mind?
OB: Interestingly, it's one that not a lot of people know about. It's a recognition that occurred by the Multi- Cultural Arts Initiative after 20 years or so of working there. It was a tribute that they offered to me and it consisted of an original jazz composition by trumpeter Sean Jones, titled Master Builder. I don't know if he ever put it on one of his albums, but it's an incredible piece. It characterized his view of my role in our community as a builder, not as someone who runs things, but someone who builds things and makes it possible for others to run things.
It also included a dance tribute by Dwana Smallwood. The name won't be familiar to many, but she was the former principle dancer with Alvin Ailey's American Dance Center Company. And she performed an original dance solo to Donny Hathaway's A Song for You, which also has a special meaning to me. That tribute is probably the most meaningful recognition that I have ever received, probably because I am a trumpet player. I do have a love for dance and I do have a love for the excellence in both Dwana Smallwood as well as Sean Jones who represent that excellence at the highest level in the area of jazz trumpet, as well as in the area of dance.
JS: As we wrap up, is there anything you can tell us that will help our listeners understand what made you the person you are today.
OB: I will just say a couple of things. One, it's important for anyone and everyone to get grounded with God. Otherwise you will find yourself sort of whistling in the wind, as various influences hit you, as you grow up and become real in this society. Having that as a foundation is critically important. Maintaining your integrity is also important. Finally, being willing to take measured risks in order to achieve the kinds of goals you have is also important.


U R B A N H E R O E S