---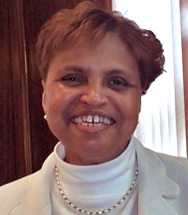 Deloris Livsey
The authors met Mrs. Livsey at a seminar they conducted for leaders in the Hazelwood area of Pittsburgh and immediately saw her as the quintessential Urban Hero: humble, a servant, a leader, quiet with a story that included suffering, overcoming and dignity. She was the first nominee for this year's class of Urban Heroes and after you read her story, you will know why.
JS: Deloris, welcome to Urban Heroes. We're glad that you could join us. Tell us a little about yourself. Go back as far as you want and tell us what you want.
DL: Under education, I'm a graduate of David B. Oliver High School, class of February 1964. I was the last class that participated in the mid-term graduations in February of 1964. I'm also a graduate of Allegheny Community College, class of 1984, where I received an associate's degree in science. My major was child development. I graduated with honors, while raising five children, working a full-time job, being a housewife and attending classes at night. JS: Tell us about your husband. DL: Both of my husbands are deceased.
JS: And your children are all local?
DL: Yes, they're all in Pittsburgh. I am the proud mother of three daughters and two sons, Samuel William Mitchell, Veronica Mitchell, Patricia Lynn Marsh, Paul A. Livsey, Jr., Melissa Virginia Livsey. I also have 23 grandchildren and 12 great-grandchildren.
JS: Wow. That makes you an urban hero right there.
DL: Yes, it does. I have two sisters, Juanita Toliver and Linda Toliver, and a foster sister Darlene Dempster and three foster brothers, and lots of in-laws, nieces, nephews, and other family members. And I still have another foster parent who is 93 years old and lives in Wilmerding.
KB: And you don't drive. With all of those people. How do you get around?
DL: Well, my daughters either pick me up or I catch a jitney.
JS: What did you major again in community college? And what did you do with that? Where did you go to work?
DL: I worked for the Pittsburgh Board of Education for 35 years. I retired in 2004. I worked in the pre-school for most of that time. And before I retired, I worked in the emotional social-support classroom as an assistant.
KB: So you can really tell us stories about the Pittsburgh public school system, right? As a former teacher, we really appreciated those people who come alongside us and work with us. You live in Hazelwood. Could you describe Hazelwood to us; what it was like and what it is like now?
DL: It was about 30 years ago when I first moved to Hazelwood. A lot of the businesses were gone and the community was falling down. Now there is a lot of redevelopment going on. We have a new Propel Hazelwood charter school. They're doing redevelopment down where the mills used to be. And we are starting to try to develop businesses on Second Avenue.
KB: I used to go through Hazelwood all of the time and I'm pretty familiar with that part of town. You really can't ask for a better view. As you think about Hazelwood, what are you moving towards and what is your organization about?
DL: We're moving towards more redevelopment and building a better community for the residents. Our organization is really for the community, since we are a community- based community-development corporation. We work with other organizations in the community to try and build a better community. With our network, we want to build a large collaborative so that all of us can work together.
KB: What's the name of your organization?
DL: It is called the Hazelwood Initiative Incorporated.
KB: And your role there is?
DL: I served on the board of directors for nine years. In December I served my last term. I served as chair for six years, and they've asked me to stay on as an ex-officio and advisor. I am very happy about that. I am also chair of the governance committee.
KB: One of the things I search for is that different people have different definitions of community. What's your definition of community?
DL: My definition of community includes everyone that lives in a community, regardless of race, color, gender, beliefs, or sexual preferences. Because we are all one community and we need to work together to build a better community that everyone can be proud of. For so many years, we have not had much support from outside agencies. But now, and for the future, we have a lot of support from endowments and other larger agencies.
JS: Did you ever think at this point in your life that you'd be doing the things you are doing, as far as community activism and community involvement? Was that an objective of yours, or did it just happen?
DL: It wasn't an objective. I did take a class in 2005 on community leadership. At the end of that class, we had to develop a health and wellness class for children ages six to nine. I organized a graduation ceremony for that class. At that time, I was not in a leadership position. But three years later I was asked to come on board with the Hazelwood Initiative, which I agreed to do, because I said when I retired, I wanted to be able to make a difference in my community.
JS: And you certainly are making a difference in your community. As you look back now – and as we get older we can get much more reflective because we have a lot more to be reflective on – what do you think your most significant accomplishment or accomplishments were? What do you look back at? You've done so many things and you have a large and wonderful family. What are your greatest accomplishments?
DL: I believe my great accomplishment was finishing college and getting my associates degree. While in my emotional support classroom, I had a nephew and grandson in that class and the kids started to call me "grandma." That meant a lot to me, because we had built a really close relationship. Several weeks ago I ran into one of my students who was a teen mother when I was working at Westinghouse High School in the teen program. I took care of her daughter and happened to be at the hospital to get a checkup when the elevator door opened and she saw me and asked where she knew me from. I told her Westinghouse and she said that she knew it, because she loved my face. And she gave me the biggest hug. And that just meant so much to me. And she told me her daughter was 18, so you know, that was a long time ago. And for her to remember me, that was an accomplishment.
I also feel that I have been, and this just makes me weep, a good role model for my children. Some of my daughters have completed college. My oldest daughter will be getting her master's degree this year and is going to try and get a doctoral degree, and I am so proud of her. A couple of my grandkids have graduated high school, and that was a milestone, because they were the first to be able to graduate high school. So I believe those were some of my other significant accomplishments. And also the fact that I was instrumental in working with the Hazelwood Initiative and the Heinz Endowment and Propel, to be able to reopen the school that I worked in for nine years, which was closed, so it could be reopened as Hazelwood Propel School. I was given the job of signing the lease agreement and the school opened in August. I feel like that was really a great accomplishment for me.
JS: Now you've also had some bouts with sickness, haven't you?
DL: Yes. I was diagnosed in 2009 with a rare form of cancer called ependymoma. I had to undergo surgery and I did six weeks of radiation treatment and in 2012, I was diagnosed with lung nodules and they suspected it was the same thing. So I had two surgeries that year, one in June and one in September, to remove the lung nodules. I was cancer free. Then they noticed something there again. They didn't do any more surgery, but I had to go through eight days of intensive radiation where they wrap my body where I couldn't move. And some days were an hour treatment and some were a half hour treatment. I had to be perfectly still the whole time with my hands and arms up. I just thank God for my healing, and since then I have been cancer free.
JS: That's great. On top of all you have done you've had to battle through all that. I think I can speak for both of us in that we were blessed and impressed by meeting you last year. Your spirit and attitude are outstanding, and then when you hear all of your story, it just adds to the impression that you make. Our community and the Hazelwood community, and the Urban Heroes community are privileged to have you as a member.
KB: Yes, we were delighted to meet you. We said right away that you should be one of our Urban Heroes. As you think about what you have done and what you are going to do, are there any authors or people in history or experiences through other people that have encouraged you to do the things you have done?
DL: Yes. I was encouraged by Reverend Tim Smith. He was the one that invited me to become a part of the Hazelwood board of directors while he was still chair. And I watched how he carried out his duties with such dedication, so he was a great role model for me.
JS: How about when you were growing up? Whose footsteps were you following? Who influenced you more? Mom, dad, teachers, or historical figures that one day you read about who really impacted you?
DL: As far as my religious education is concerned, my foster parents were very firm believers that you raise up a child in the way they should go, and they may stray from it, but they will return. So I've made sure that I taught my children about God at an early stage. And I'm so happy to say that I have seen the benefits of this in my one daughter. She holds various positions in the church. She mimes, she takes her children and nieces and nephews to church, and she is a great supporter of her mom.
KB: So you grew up in the foster care system? Could you share a little bit about that with us?
DL: I was born in Fairmont, West Virginia, but I was brought here at the age of three and placed in foster care. For most of my life, I thought that my mother was deceased. But I met her at age 20 and found out that I had two sisters and a brother who are deceased. I guess I spent three good years with her before she passed. Another reason why I was able to graduate high school is because, when I was in what they called the housing for foster children, didn't even know how to add one plus one. So I had to repeat that grade again. After that, I was able to excel. When I graduated from community college, I graduated with a 3.0-average and with honors. That was a great milestone for me.
JS: When we met you last year, you were believing the Lord for a house. Any progress on that?
DL: No progress on that, so far. But I am still believing.
JS: Which leads us to the question as to what remains to be done for Doloris? What are your thoughts for the future? What else would you like to see happen or be involved to help make happen?
DL: I plan on continuing to be a community leader and advocate, and I will continue with my membership in the Hazelwood Initiative. I'm also secretary for the Monongahela Marston Yacht Club. So I plan on continuing that relationship. I'm also chair of Cage Vision Cancer Support Association. And I am still very active with all of the organizations and also a member of the Hazelwood Collaborative. I do believe that God has called me into the ministry, so I believe, and my affirmation is, by the end of this year, I will have my minister's license.
KB: That's great. I guess what I'm hearing is that something has kept you all of these years. What is that?
DL: It was my belief in God and my faith. Believe it or not, all the adversity that I had in my life seems to push me further and seems to make me work harder. I believe that a lot of the things I have accomplished, occurred after being diagnosed with cancer.
JS: Do you think there is a book in your future? Would you like to record any of these stories for your children, grandchildren and great-­‐grandchildren for them to know and draw strength from?
DL: Yes, I do believe I would like to do that. I was thinking about that this morning and that it would be a great legacy for them.
JS: What advice would you have for people starting out who want to follow in your footsteps and become an Urban Hero and someone who is making a difference?
DL: Do not let your past or circumstances determine your future. Be an overcomer and not a victim. Turn your lemons into lemonade. All that will take preparation, timing, faith, and favor with God and man. Those are the keys to success. My favorite scripture as I was going through the cancer was that I shall not die, but live and declare the works of the Lord, found in Psalm 118:17. My favorite song at that time was "I Speak Life," which I listened to every single day, not only because I wanted to speak life to myself, but also to all those around me and all those who were in need of that word.
KB: You're giving me goosebumps thinking about what you have been through in your life. It is truly amazing. Can you tell us a little bit about what church you belong to and who your pastor is and what you are doing there?
DL: Before I do that, I want to tell you another accomplishment I had. I was delivered from a 40-year smoking addiction through prayer and the anointing of the Holy Spirit. And I have been smoke free for four years without any assistance from products.
I belong to Lily Baptist Church. And my pastor is Reverend Earnest Genes III. And I serve as the minister of music, president of the missionary board, and deaconess.I've been playing the piano since I was seven years old and I was taught how to play Beethoven and Bach and all of those. When I tried to play church music, especially in the urban and black churches, I was completely lost. I was reading music, and they do not sing by music. So I had to relearn and unlearn some of the things I learned. It was quite an experience. I've been playing for about 40 years now.
JS: And you play in your church now?
DL: I am still minister of music at my church with my other two duties.
JS: We met you last summer while helping to facilitate a seminar through an organization called The Pacific Institute. And you mentioned before that you're making an affirmation about something you want to achieve and have accomplished by the end of the year. Tell us a little about what that seminar was like for you, what you learned and how you still apply it in your life.
DL: That seminar was awesome, that's all I can say. It helped to change some of my perspectives on life. It helped to change the way my thought process operated. It helped me in being a leader in the community, especially being the chair of the Hazelwood Initiative. It helped me to reprogram the way I did things. And it also helped me to begin to write affirmations of the things I wanted in my life and in my children's lives. One of my daughters was unemployed and was looking for a job. She had just relocated here from Cincinnati and that affirmation came true. She has a full-time job and has also found a second job to help take care of her family. I am still working on my affirmation that I will have a new home. I am still believing in it and believing I will have my minister's license by the end of the year. I'm believing that our Cage Vision Cancer Support Association will begin to grow and we will begin to draw in more partners and be able to help those in and out of the state.
JS: Those are good affirmations. Talk to us about your cancer support group. What's involved with that. Do you have meetings or are you just working with people one-­‐on-­‐one? How did it get started?
DL: We started in 2011. Our CEO is Karen Henderson, but we call her Kay. I was referred to her to become a member of that group by the YMCA. Kay asked me to come help organize and encourage the cancer support group, which I was very much willing to do. We started out with our small group, provided exercise classes one day and then we had a group session. For the group sessions, I was the planner, facilitator and the organizer. I employed fun activities and drew on examples from the Bible of people who had been healed. I used words of encouragement and poetry and we talked about their experiences, asking them how they felt with what was going on with them.
Karen is a breast cancer survivor herself. She had this vision, and I am very delighted to be a part of that vision. In November we held a Women of Power workshop at the Y, and we had different people come in. We had a speaker to speak to the women about the issue of blood. We had a lady come in to do exercise, hand massages, and talk about nutrition and breast cancer awareness. And it was a success. We also had a caterer for the event.
Just recently, we had another event at Brown's Chapel Church on the North Side, and I was the guest speaker. I spoke about the life of Esther because I can really relate to her story. A lot of the things that happened in her life occurred in my life, so she is one of my biblical role models, along with Ruth and Hannah.
We did a partner program with the YWCA in Homewood this year, and we also had people in from Allen's Place, the Jewish Foundation, Bynum Communication, Incor Breast Health, and someone to talk about nutrition and other aspects of being healthy. The lady from the Jewish Foundation talked about the HPV virus, for teens. All in all, it was a successful event. We plan on going around to the senior centers and doing workshops there.
JS: How impressive. Let me go back to your minister's license. What do you need to do to accomplish that?
DL: I need to start going to school for ministry. I haven't started that yet. I'm thinking of going online to take a minster's course.
JS: Let's go back, if you wouldn't mind. Talk a little more about this Hazelwood Initiative. What the objectives, goals, and what caused you to be involved in that point of your life and in that point of your community's life?
DL: I believed strongly that I could make a difference in my community. The Hazelwood Initiative mission statement stood out to me because one part of the mission statement states that we would be a voice for the greater Hazelwood community – a shared voice and not the only voice because we wanted our members and the community to have a voice in what was going on in the community. We have done some housing developments and have a program where seniors can have their houses fixed up for free.
Then we have another program where those who are low income can have their houses done at a discounted price. That was one of our goals. The other goal, which we achieved, was to get a school in the community. We also have a group that's working on making Hazelwood a safe community. And we are collaborating with the Greater Hazelwood Community Collaborative to have a public safety committee where both committees will work together to try to make Hazelwood a safer place for our residents.
JS: Who is a part of this organization and how often do they meet?
DL: Hazelwood Initiative meets the second Tuesday of every month, except for August. In December, we have our annual Christmas celebration for the community. The board of directors meets once a month, but if there is an urgent matter to be discussed, then we do have call a special meeting. We have a membership committee that recruits members. We have a governance committee, which is in charge of the bylaws and different policies that help keep the organization running smoothly. We also have a finance committee, which takes care of the finances and looks after the finances of the community. And we also have a community contribution fund, where we distribute $200 for events to an organization in the community.
JS: So you're a grassroots organization that is very involved in a resident-friendly way. I see that the mission statement is: "A community-based community-development corporation, is to be community driven, providing a shared, stronger voice for Greater Hazelwood by gathering community input to build a sense of hope, harmony, and promise, by supporting human, spiritual, and continuing community development. Does that sound right?
DL: Yes, that's the one.
JS: And are you doing it? Do you feel like you're hitting the mark?
DL: Yes, I do believe we are doing that. It took a lot of restructuring and making a lot of changes and trying to build collaborations with other people and organizations in the community, but I do believe that we are making progress.
KB: Is there anything you would like to add?
DL: What pushed me to do the things that I have done in my community and accomplish what I have, and to fight to be a cancer survivor is that I needed to set the precedent for the lives of my children by setting an example. If it was God's will, I needed to survive. I knew what I did in my life would have a great influence on their lives. I needed to show them that no matter how many children they had, how old they were, whatever obstacles got in their way, no matter what happened in their lives, they could overcome them and keep pressing towards their goals. They can turn their lemons into lemonade. I hope that is what I have done with my life, and I hope this is the example they will follow. As far as I can see, right now they are following this example.
JS: Congratulations on a job well done. You have spoken like a true Urban Hero. We believe that the best is yet to come for you, and we hope that CUBM will be a part of that future.
KB: Thank you very much for being an encouragement to me.
DL: That has been my other goal in life, to be an encourager and care for others ‐ to show people that God loves them no matter what.


U R B A N H E R O E S