---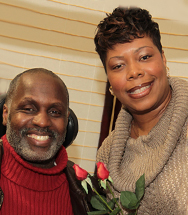 Sean and Loleda Moman
Sean and Loleda Moman have raised their two children on the North Side of Pittsburgh and both work for their church, Allegheny Center Alliance Church. That in and of itself is not spectacular. Yet they have worked their way through some serious setbacks, which they describe in this interview. When you have read this, you will understand why they are worthy of the title, "Urban Heroes."
JS: We have several couples in this year's Urban Heroes' class, and we even a mother/daughter team for the first time. I've known Loleda Moman and Sean for 10 or 11 years, going back to when I first started working at ACAC. Yet come to think of it, Loleda was a CUBM student when she first started back to school, wasn't she?
KB: Yes, she was. She was a CUBM student and has gone on to get two degrees.
JS: Sean, let's start with you. Are you a Pittsburgher? Where were you raised? Tell us a little about your background and family.
SM: I was born and raised in Pittsburgh and have lived here all of my 43 years. My parents grew up in the Hill District. I went to a Catholic school and graduated from Brashear High School. I attended community college but walked away from that. I started working full time at Allegheny General Hospital and then went on to work for a cable company before they were bought out by Comcast. I met my wife at Allegheny General Hospital in 1993.
JS: How long have you been married?
SM: 18 wonderful years.
JS: Loleda, tell us a little bit about you.
LM: I was raised on the North Side and attended public schools. I lived in Northview Heights and attended Northview Heights Elementary School. Then I transitioned to Allegheny Middle School and from there went to Oliver High School. I planned to attend community college to become a nurse. I went there for a couple of months but decided not to continue. At the time I was working at Allegheny General, as my husband mentioned. I worked there for 11 years, up until we had our children. Then I moved on to work in a home daycare called Wee Wisdom.
When our daughter was two, I started looking for work again and started working for Allegheny Center Alliance Church. A couple of years into that I went back to school and that's when I started attending CUBM. I did that for a semester and decided to go back to community college to get the foundational classes in 2004. By the time the fall of 2007 came around, I had moved to Carlow University, pursuing an undergraduate degree for social work. I graduated from there in 2010 and made another attempt to transition to the University of Pittsburgh, where I attended for two semesters. I took a break from there and moved to Point Park in 2012 to pursue my master's in Organizational Leadership. I continued with that and recently graduated in 2014, completing their Master's of organizational leadership, while still working at ACAC.
KB: Tell us a little more about how you two met and what attracted you to each other. Then take us through to the children.
LM: I was working in dietary at the time and had been working there since 1991 as a summer intern all through high school, then continued on after I graduated. Then in 1993 I met Sean when he was first hired in food service, which was my department, although we worked in two separate areas. I noticed him from a distance and thought he was attractive, but didn't know much about him. It was funny because I would tell my girlfriends as we worked together that he was attractive, but I would never say anything to him, other than hello. That went on for a while and one of my friends said she was going to tell him I had an interest. She did that and gave him my phone number and he gave me a phone call.
SM: That's pretty much how it went. Our friends told me she was interested and I took the initiative to introduce myself to her. We had conversations and interesting ones at that. We would talk for hours on the phone, or in person, and it grew from there. From '93 to '95, we courted, and I felt a strong urge to ask her to be my wife, and in 1996 we got married. In 1998 our first son was born and he is now 17 years old. We are very proud of him. Our daughter was born in 1999.
JS: Let me just interject, they have wonderful children, respectful and spiritual. I am sure they have their challenges as all children do. But Sean and Loleda, you've done a wonderful job, we'll talk more about that later. But back to your daughter, Sean, as you were saying.
SM: She's 15 and plays guitar for the church on Sundays. Our son is now looking at colleges to attend and is currently working as well. Our challenges in marriage and everyday life were trying to keep a sane house. We are thankful God is in it to keep us grounded.
JS: Now you both work for the church. Any challenges working at the same place, Loleda?
LM: No, not really. That is the way we started off, so it's actually what we are accustomed to. I see him twice during the week, because he only works Tuesdays and Wednesdays. For me it's a difference when he's there, because he has my back. He can see things I can't and is there as a protector for me. So it's actually more comforting for me when he is there. And being that we are both on the same floor, I feel like we are doing ministry together.
KB: Have you always been Christians?
LM: I grew up in a Christian household. I was exposed to God's word through my great-grandmother who is now deceased. She always made sure I said the Lord's prayer when I went to her house. She instilled in me the importance of having God in my life, which was from when I was a very little kid. At home with my mother, however, we did not go to church. However, I always felt a need to go. I still remember times as a young girl that there was a school bus that came around and I always had a desire to get on that bus and go with them to church. Those were the most peaceful and happiest times when I would participate in church activities. I attended the YOU, Youth Opportunities Unlimited Program, and it was similar what we offer at ACAC, a mid-week club thing. We had devotions and they taught from the Bible. Those were pretty much my stepping stones and the things I depended on. As I became older I connected with people who were Christians, and then I started to attend church every now and then. But by the time I turned 17, I had given my life to the Lord and was saved.
KB: I think that speaks to the importance of the organizations that reach out to the community. And I know your church does a lot of that. What is your role there?
LM: I am the director of care connections. It's partially outreach, but more so my responsibilities are to make sure the members of the church are taken care of. And that happens by way of our deacons ministry and provision of resources to make sure that people seeking help are no longer in crisis mode. But at the same time it's all based on relationship building, so we want to open ourselves up to build those relationships that need to happen so you can go deeper with the individual or family who are in need of help. We are now located on the first floor of the church offices to make sure that is happening more effectively.
JS: Sean, has it been challenging working for the church where you get closer to the people and leadership? No church situation is perfect. Has it been a challenge or has it been a blessing or both? Talk to us a little bit about your experience working at a church.
SM: My experience there was new for me. I had never been in that type of atmosphere. It has been wonderful. I have met nice people and had a chance to work alongside some of the good people at the service desk, where I currently am now. Like my wife said, on the first floor when you come in we greet you and ask what your need is, if you have one, and direct you where to go. And working on staff has been great. The real challenge is with the pastors and employees working to help keep the church running and I don't really have any problems working there or see any challenges. I help people who have challenges, but no really hardships or challenges that I see or face.
JS: Good. Because sometimes people get disillusioned when they work in churches. They have expectations of how things and people are going to be and when it doesn't turn out, they can get disillusioned.
Sean, you mentioned some of the challenges of raising teenagers these days. What can you share with us? What have both of you faced and how have you been able to navigate some of the challenges of raising a family in today's world?
SM: One of my biggest challenges is I'm in a powered wheelchair. I use it to get me around. Being that I am not able to walk, it's tough helping my son accomplish things and showing him how to do things around the house and be a responsible man. Sometimes you want to show a physical side of doing and fixing things. That has been a challenge, but I have had men come alongside me to help get that accomplished. He recently got his license, so I was able to help him achieve that. We have conversations on what a man's responsibilities are in the house and outside of the house and how to carry one's self. And he has taken on that challenge and he's listened. We've had some bumps, but as far as being a responsible person, I try to instill in him the values my father instilled in me. And with my daughter, we are also raising her to be a young lady. Teaching her things as a father, having her to be responsible. Some things she has to get from her mother and others she gets from me.
It's been wonderful. Some challenging days are getting them up to go to school. That's one of the challenges I face. Coming home and having to do their homework, they have no issue with that. Just talking and praying with them and helping to understand life itself, the best I can teach them.
LM: First, I have to say we have a really great bond with our children. They're the highlight of who we are, besides God. They give us a lot of joy and are very insightful. There's not much correction that needs to take place with them. We have a lot of family time together, which we started from the time they were young, even before they could speak. It was something we wanted to see take place. We wanted to make sure our family was well-grounded. We always carve out time once in the week, if not more, to talk about what's going on in their life with what some of their challenges are.
I would say the challenge is now getting them to really talk to us when they oftentimes want to keep to themselves. And that becomes more of a challenge for me because I know what's out in our society. So I am always trying to make sure they're open and unafraid to share, regardless of if it's positive or negative, so that we have an opportunity and ability to steer them in the direction they should be going. It's more of the challenge to just understand what is being spoken to them and what type of influences are coming their way.
Although they have an understanding of God, they're just the opposite of how we were raised. They have grown up in a household with the Lord, versus when we were growing up. So their challenges are quite different than what I experienced as a teenager. I think sometimes they become frustrated with what their life looks like compared to others who are not Christians. That's a challenging piece in encouraging and reminding them that things may not look the way they look for their friends, but at the end there is a blessing and reward if they continue the course they're supposed to keep, and reminding them that we understand they are not perfect. We encourage them to try and do their best every day.
I want to be taking them out of their room and not allowing them to sit there and isolate themselves, but to bring them into the community of the household. I do that strategically by asking them to go on trips with me to the store. Often they will see it as me just asking them to go to the store, but it's really to carve out that time to have that conversation. You have to be strategic about it, because if I was going to come out and just say "let's talk," it's not going to happen that way. I have to be creative and strategic in keeping that relationship open so they can continue to grow is the overall challenge.
KB: You brought young people to our site who were in a program you run, and they were the best behaved group of young people I've come across in a long time. I knew it was because of you, because I knew you had your finger on the pulse of everything and everyone was doing everything the right way. It was fabulous and they can come back anytime.
LM: Well, thank you.
KB: One of the things I wanted to ask is what your greatest accomplishment. Let's do the couple first and then individually.
LM: Our greatest accomplishment would be overcoming our challenge of what most people do not have to face. People know statistics, and a couple like us can become a statistic. Our greatest challenge is overcoming what you would see as a barrier with my husband being in a wheelchair. It's been tough just moving forward and navigating what that looks like. It will soon be 14 years since we had the accident, and yes, we have had a lot of challenges and sore spots. But overall, we've learned to go back to the main source, which is the Lord. And we have supportive friends who help us and are supportive in the way of listening or even speaking into some of the things we face as a challenge. The fact that we are now close to having 14 years to celebrate after the accident, I would say that has been our greatest accomplishment as a couple.
SM: I would agree with what my wife said that it's been overcoming my disability and trying to raise a family; maintaining a household without going crazy with the challenges, keeping our Lord and Savior in our life and seeking His wisdom.
KB: And individually, what has been your greatest accomplishment?
LM: For me I would say finishing school and especially earning a master's degree. That wasn't even on my radar and wasn't something I thought I would do. That was really great, and then finishing with a 4.0 was just amazing for me, with all the things I juggled. I know it was God who made that possible, so He gets all the glory for that. Then the fact that I was raised somewhat by a single mom and that I have been married for so long, that has been an accomplishment. The fact that God has used me to break curses and generational things that go on in the family, I'd say that is an accomplishment. Again I had little to do with that. It was God's work in that. Then what goes along with it is having children and a husband to help and not be a single mom.
So those three things are the highlights I will always reference. Of course I could have others, but material things wouldn't happen if those three things weren't in place. Continuing my walk with the Lord is the main thing. The fact that I keep Him first in my life, regardless of how discouraging things are, what things may look like, I know that I need Him and need to fully depend on Him fully for whatever comes my way. That's where my strength comes from. Those would be my highlights as an individual.
SM: As far as accomplishments, I would have liked to accomplish going back to school, but I don't see that in the future. My biggest challenge was dealing with my disability from my accident in 2001. Just getting over the devastating life change took some years. I isolated myself and getting the courage and strength to get back in society was one of my biggest challenges. I was greeted by some really nice people at ACAC and they helped me to overcome those challenges by getting out and having me involved in the church, welcoming me in working there since 2008. Out and at home, I would say that was my biggest accomplishment in just getting back out into society and being a part of it and not feeling I'm a burden on others and being equal. I thank the Lord for that. I listen to the Lord letting me know He is with me and will carry me through, and He will give me another challenging thing some time down the road. But for now just doing that - what I am now and being with my family and keeping things together at the house and working have been my biggest accomplishments.
JS: Loleda, you mentioned some of the initiatives you have going on at the church. Beyond the home, what has been your approach to your work at the church and the community and what have you tried to accomplish?
LM: You heard me mention earlier, I didn't grow up in a Christian household. When I became a Christian, I had a longing to learn more. I didn't have many mentors. It was more of a learn-as-you‐go situation. When I started going to ACAC, which was shortly after the accident. I felt the Lord speaking to me that He wanted me to reach people the way I was reached. And I was able to actually put a name to it, which was evangelism. Therefore, with anything I do, when I come into contact with people, I want them to know who Christ is, whether it's spoken or unspoken.
That is intertwined in the work I do at ACAC through the Care Connections ministry. There are initiatives that are driven purposefully that way. We have the aftercare jail and prison ministry to reach those incarcerated or being re-integrated into society. We have that support group held on Monday nights, just to make sure that people have hope and understand there is still opportunity for them to live and regain what they believe they have lost. So we have that for people to come in. They don't have to be a member or attender of the church; it's more community related.
Then we also have different programs we collaborate with, such as the Dollar Bank Energy Fund. That was something we started back in 2006 or 2007, with the understanding that those coming through our doors who had a crisis with utilities. So at that time, I took the initiative to look into the collaboration from a community perspective and how we could partner. They will give someone a grant of up to $500 per utility. But at the same time, we wanted to use that to reach those who do not know the Lord. So many times when they come through the door and we are busy just trying to make sure they are going to have lights and gas. We are also trying to find ways to talk to them about Jesus.
They don't realize that it's a church because we are in a community building, but we try to make sure we hand them that booklet from John's gospel and before they leave, we pray with them. That might be the only way and only church they attend for that year. At least it's an opportunity for them to hear about the Lord and for us to speak to someone that wouldn't come to the church otherwise.
Then we have the youth mentoring program, the Young Professionals Mentoring Program, which was developed four years ago. It was strategically setup so we could reach those who live on the North Side of Pittsburgh, but who do not come into the church walls. Over the course of the years, we have had at least 35 students participate, which I would say is significant. I'll just conclude by saying that is how I am interweaving that which is close to my heart.
KB: I was going to ask you to give us a blurb on the youth group you work with over the summer?
LM: The Young Professionals Mentoring Program is a seven-week program that starts right after the public schools are closed. It consists of offering the students the fundamentals as far as understanding what it takes to be successful after high school. It opens their minds up and exposes them to different colleges and careers they could potentially get into. They also learn life skills where they would be able to be independent and take care of themselves - things like cooking and money management.
This year we are adding safe driving to our classes, which is very important, because many of them are close to taking driver's tests. They will also be assigned to job sites through the program, which gives on‐the-job training. They can evaluate how they feel about that field and if they would like to continue on in it. So they are doing a lot of learning and accumulate between 50 and 60 hours in the seven weeks just in working and then they also have seven field trips.
They have devotionals every week as well. And because ACAC is doing the 91 weeks with Jesus program, we will also be doing that this year for the course of the seven weeks. They will be expected to be reading and digging deeper into the Word. Prayerfully their families will want to do the same thing with them. Maybe this will be a start to something new in their study time. Then at the same time, we added a literacy piece where they will be expected to spend an hour at the library and read two books that are on their grade level.
JS: And you actually get students to do this?
LM: Yes, but we found there are challenges, because the city of Pittsburgh has opened up their summer program. Many students want to work and our numbers aren't as high as we expected or even prayed for. But at the beginning of this year, I was discouraged about it and didn't know if we would actually move forward. We do have at least 10 kids and I wouldn't want to discourage them and not have it move forward. We don't know what next year holds, but this year we will still have it.
KB: What age group do you work with?
LM: 14 and it's supposed to go up to 17, but that's not realistic, so that will be tweaked. By the time they are 16, they are moving forward with work, so we may have to change the age a little bit.
JS: Sean, do you have a life verse or can you share any other inspirational thing you do or lives you follow or things you read? Where do you go to encourage yourself when things may get a little tough?
SM: I usually read The Daily Bread and it gives me inspiration to strive in the Lord's walk. I don't have a particular verse I use or think about really. I'm doing the 91 weeks with the church, of course. That's about it.
LM: I'm also doing the 91 weeks and in addition to that I love the book of Psalms and Ecclesiastes. I love the book of Proverbs for wisdom. One of the things when Sean had his accident was Philippians 4:6-8 that says I should let my mind dwell on whatever is pure and whatever is good.
JS: What advice do you have for someone listening in who has some pretty significant challenges coming up? What do you tell someone who says people don't understand and don't know how bad it is? What do you tell them on how you can keep going and turn your life around?
SM: I would tell them to keep God first, pray, and try to get yourself around positive people to influence and help build you up. They should try to keep all the negative stuff they hear out of their ears and out of their soul so they don't dwell on it. Just keep a positive mind on things. Like I said, first and foremost, pray and get yourself into somewhere that can uplift you. That's about it. And build each other up.
LM: Without being critical or appearing as if I am dismissing what they are really saying to me. I normally respond by asking, if they are a Christian, how hard do you think it was for Jesus to carry that cross? And I say, often we say we want to look like Christ but don't want to go through the things He did. And those are the things that shape us and mold us into His character. It's what makes us who we are supposed to be from the beginning when we were first created. I try to show empathy and sympathy in the midst of it without comparing what I have been through, because they are not us. But letting them know to always be obedient and to let them know what they are supposed to do.
There is always good fruit from being obedient. It's not always about what you want to do. It's about what you have to do. I think that's what people struggle with the most. They want to do what the flesh is telling them, versus what God is telling them. But if you remain on course with what God is telling you to do, there is always a story, such as today we are now able to share our story with others who may be going through trials and tribulations. It doesn't mean our life is perfect. It just means we have the proper ingredients to move forward.
JS: It's not easy to impress Mrs. Byrd. She's not just saying all she said about your group of young people who came last summer because you are on the show. They made a lasting impact on our lives and the people they met. I know that's not just a product of what you are doing, but what both of you have done. Because your two children were in that group, and they were really stellar and exemplary. We love them and I greatly admire them and you guys for truly being Urban Heroes.


U R B A N H E R O E S