---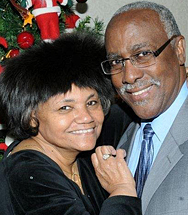 George and Sandra Russell
What would our communities be like without churches, mostly small churches who function week in and week out as they believe they should. These churches are often led by selfless individuals who work in obscurity, helping people in ways that benefit families, companies and society in general. Two such selfless church leaders are Pastor George and Sandra Russell, who are connected with CUBM through their daughter, Carla Lovelace. Here is the transcript of our interview with Mr. and Mrs. Russell. (Watch at the about the halfway point when a surprise caller phoned the show.)
JS: Suffragan Bishop George and Minister Sandra Russell. I never heard the word suffragan before, but I'm sure Bishop George will explain that to us. These two have been married for 54 years, and for half of those years they have been pastors of a church in Washington, PA. We are delighted they are part of the Urban Heroes class of 2015. Ladies first. Minister Sandra, tell us a little bit about you. You growing up, your background, and a little of who you are.
SR: Well, I grew up in a home with two parents, but my father was not really visible in the home. He was a good provider, but was a weekend alcoholic, which made it pretty difficult for us. My parents did not go to church, so I didn't know a lot about the Lord when I was growing up. When I was about 13, I went to church with my cousin. That's where I found the Lord and where I have been for the rest of my life. I changed churches when I was 20 and got really serious and gave my heart to the Lord. From 20 years old up until now, I have been working for the Lord.
JS: And you're a Pittsburgher?
SR: I have been in Pittsburgh all of my life.
JS: And what part of town were you born in?
SR: I was born in East Liberty and we lived on the busy street of Larimer Avenue. Then we moved to the back of Larimer Avenue, which was called Braden Way. We lived there until I was about 17 when my parents divorced and then went to live with my grandmother on the other side of East Liberty, up near where they're building the new Bakery Square off Penn Avenue. I went to Westinghouse High School and graduated in 1959. I got married in 1960 and we have been married 54 years with four children and four grandchildren.
And I do a lot in the church. I love the Lord very much, and I believe the Lord called me to be a teacher in the late 70's. That's what I have been doing; a lot of teaching through seminars and such. I love to work with seminars for married couples, inner healing, and those kinds of things. And the Lord seems to bless it when I do it.
KB: How did you and your husband meet?
SR: We met in high school. I guess he saw me when I was about 13 and he liked me, but I didn't like him ‐ but he grew on me. When I was about 15 or 16, he asked me out and I went out with him and we have been together ever since.
JS: Where did he take you on your first date?
SR: To the show in a theater. And don't ask me what we saw, because I don't remember!
JS: Your turn Bishop. Tell us about you.
GR: Well, one thing I want to make sure I'm clear on is that I am known as a Suffagan Bishop. A Bishop is over a state and a Suffagan Bishop is over a district within the state. I come from a family of six boys and one girl. and the girl was the baby of the family. My brothers and I ran around together a lot. We had a lot of friends and did a lot of different things by ourselves, within the family realm. I graduated from high school in 1958. One of my dreams was that I always wanted to be a social worker.
Because of circumstances in our home, my father didn't really uphold his end. There wasn't much money in the household for everyone to go to college, so I decided that since I loved to play baseball that I would get a scholarship for playing baseball. I made the baseball team, but you had to take a physical in the city league, and it's probably the same now. And I had what was known at that time as a heart murmur, so I couldn't play baseball. That happened when I was in the ninth grade. Those last years of school, I went because I didn't want to disappoint my family.
After I graduated in 1958, I started saving some money to go to electronic school. Then once I got into school and started, they raised the tuition a little bit higher than what I had. Since I didn't have the money, I dropped out and joined the Army. I got the training for free in the Army. That was in 1960. But that was the same year we got married. It was quite a year, come to think of it. In February I joined the army and in December, I got married. So 1960 was quite year for me.
Then after I got out of the service I came back home, got a job, and went back to my former church. When I went back, they felt I met the qualifications to be a young deacon, and I was ordained a deacon there in 1969. Then the Lord led me to go to the church my wife was going to at that time, and in 1970 I became a part of that church.
When I was a part of that church I got the call to the ministry. I started my ministry work there and was able to develop a couple of different ministries. One was called Children's Hour. I specifically went to the pastor to talk about that because I wanted to be able to teach the children about the Lord on their level so that when they grew older, they would be able to answer the questions that might come to them. It was a very fruitful time.
We watched the kids grow and develop. We had great experiences. Like once, we took them to the Children's Crippled Home in Shadyside. We took a group of them there one time. And I gave the big speech that when we got there, they needed to behave themselves and do this and that. So we got there and sat in the waiting area where the kids would come. Well, I remember this one young girl had braces on her legs, and she came in, got herself together, sat down in the chair and said, "Hi! My name is Amy." And that broke the ice. We always had a wonderful time with those children.
And we were singing songs that required the children to clap their hands. The children who came with us held the residents' hands and clapped them on their behalf. It was always quite an amazing adventure. Then the Lord blessed me with an outreach ministry and we were able to do a lot of things outside of the church, such as visitations, fund drives, food drives, clothing drives, tent meetings, street meetings, visitation to the prisons and to senior citizens homes. So it was good. It was wonderful.
JS: Sandra, did you ever think you were going to marry a pastor?
SR: No. I never dreamed of anything like that.
JS: But it's made for an interesting life, hasn't it?
SR: It certainly has.
KB: Mrs. Russell, what is your most significant accomplishment?
SR: Out of all the things I have done, I think the accomplishment that I really look at would be raising my children and helping them through high school and college to see what they are doing now. I think that to me that is a great accomplishment. Besides that, I enjoy teaching and enjoy watching people's lives change.
KB: And Mr. Russell, what about you?
GR: When I started working for the Pittsburgh Public School Board, I got a job as a field caretaker up at Schenley High School. It gave me a great opportunity to talk to young men. I could see in them some of the disgust I had when I wasn't able to play ball at that particular point in my life. It gave me a chance to talk to them. One of the greatest things was to later on in life was to hear someone as I was walking down the street call out your name. They were grown men at this particular time who wanted me to know that some of the things in those conversations had helped straighten out their lives. To me it was a continuous ongoing accomplishment and I am really pleased with that.
JS: Brother Russell, tell us about your church. Where you are pastoring now and what is the history of the church and the denomination?
GR: Well, the church is in Washington, PA. It has been there for 70-some years. It is a small church with a small congregation. The thing about our church is, because of where we are located, we get a lot of people who come to the Washington area to go to the rehabilitation programs out there. Then they come to our church for services and some become members and others come long enough just to be fed. We sort of serve as an oasis in the big world and we take time to minister to help people with their lives.
JS: What is the name of the church? GR: The Temple of God Church. It's located at 505 East Hallam Avenue in Washington, PA. And I have been pastoring for 27 years.
SR: 1988 was when we went out there. JS: Mrs. Russell, what did you think when you went out there? You're a city girl and now you're out in Washington. What did you think when you went out?
SR: Well, in 1981, I was working for Avon as a district manager. The Lord called me off of my job and said the job had served its purpose. Well, a lot of the things I did there I had never done before, like giving sales presentations, helping representatives, and teaching them how to sell the products and encouraging them. I didn't quite understand what the Lord was saying to me. I heard Him, but I didn't understand it because I knew he gave me that job even without a college education. Most of the district managers there had a college education. So it took me two years to kind of wear me down and let me know He meant what He said.
So in answer to your question, prior to us going out there, the Lord had spoken to my husband and me and said He was going to send us where the people needed us. We were to love them and be kind. And so for four or five years I just kept that within me. And every time something came up, I wondered if that was where God was sending us. Then we got a second word and it said my husband was going to be preaching from Chicago to California.
I thought the Lord was going to send us where the people needed us from Chicago to California, but that wasn't what happened. We went out to that church because the pastor there was a friend of ours, and he called my husband and asked him to come preach there. When my husband went out to preach, we found out my friend had more or less left the church and the people were in pretty bad shape. We had been there for three Sundays, and my husband asked our pastor if it was okay if we went out there to help the people. We were there for three Sundays, and the third Sunday I was sitting there listening to the message and not thinking anything about the word God had given to me. What I heard was, "You are to love them and be kind." And I thought, "Oh, my God. This is not what you were talking about." That's how we got there. And since I have been there, my whole mind about it has changed. I love the church and the people. I love doing whatever it is my hands find to do. I don't mind being a pastor's wife. I have learned how. You have to learn how to do that, you don't just go in and be a pastor's wife. You have to learn, and I have.
KB: How did that come about? You lived in Pittsburgh but the church was in Washington. How did you manage to pastor?
GR: We learned the drive.
SR: W belonged to, Pentecostal Assemblies of the World, and this was one of the churches in the organization. Our pastor was the bishop for the whole of Pennsylvania and it was one of his churches, and that's how we knew about it and got there. We stayed in Pittsburgh and were there for 23 years and then moved to Carnegie, which put us a little closer. We went back and forth, an hour there and an hour back, for years. You'd go for an hour‐long prayer meeting, drive an hour there, have the prayer meeting, and then drive back. But it was all worth it to us.
JS: And Mr. Russell, what was your approach? What did you start preaching and teaching when you got down there? What did you see the needs of the people were, and how did you start to respond to those needs?
GR: Well, they were broken. They were distraught and discouraged. Ironically, when I went there, it was five old women and one old man, and I used to call them my rose garden. I just began building up their hope and faith and the messages the Lord was giving me and showing my faithfulness and love for them. When they got ahold of that and found that someone was concerned about them and cared, it just encouraged them. I didn't look it as a great big thing. Yeah, we drove out there all the time, but it just didn't seem like a big thing to us. We loved the people and wanted to help them and encourage to make it through, learning to depend on the Lord for direction. I gave messages of hope and encouragement. We would watch them grow in areas, encourage them and point out to them that they had grown and it was wonderful.
JS: Both of you, looking back, who were the greatest influences on you? You both weren't raised in church, so who along the way or even among historical figures, who impacted you to do what you are doing today and to become who you are?
GR: It might seem strange, but the person who impacted me the most is my father. Now, he didn't really follow through with his role as a father. Some might say that, well, he impacted you in that you made up your mind not to be like him. It wasn't that. Yes, I was upset with him for a number of years as a young man growing up because of what he was doing. As I grew older, however, I realized that instead of judging, you need to ask the question, "why?". So I began to ask God why my father was doing certain things.
When I began to understand his plight and why he did, it inspired me to come alongside someone who was struggling so they wouldn't become like he did. I might say life destroyed him because he couldn't handle it. If someone had come beside him and helped him, maybe he would have made it. But he didn't make it. I came to realize that there were a lot of men in the same boat. So I tried to apply that principle.
Some years ago I went to a men's conference, and they were talking about absentee fathers and gave all these statistics. As I sat there, I prayed and asked the Lord, "So I hear all these statistics. But what can I do about this situation?" And the Lord very plainly told me that I must strengthen the remnant, strengthen those trying to make it so they don't become statistics. That's been my approach. When it comes to in a roundabout way, who was the one who really inspired me to where I am today and doing what I am doing, it was my father. I didn't want to see other men destroyed like he was.
And I am really happy our relationship didn't end in anger. I went to him before he died and we talked and loved on one another and just cried. And I can still to this day remember tasting his salty tears. I'm thankful we were on good terms and didn't end things on a sour note. I was determined I could do all I could so that men wouldn't fall into the trap that he fell into.
JS: Mrs. Russell, how about you? Who influenced you along the way?
SR: I think my mom, even though she quit school in sixth grade because she had to go home and take care of her brother while my grandmother worked. I think she influenced me because she was a go-getter. Even though she only went through the sixth grade, there was nothing that she feared doing., especially after she gave her life to the Lord. God would give her things to do, and she would just go ahead and do it. She followed the pattern the Lord gave her. She inspired me a lot, because when I was 10 years old, she decided to go to beautician school. She went and finished and got her license, and that was a big deal.
KB: You were lucky and blessed to have a mother that could do hair. Back then it was a whole different thing.
SR: It was a blessing. The only thing when she passed on early on was that I didn't have anyone to do my hair. But she did teach my sister and I how to do hair so we could do our own.
KB: What are your plans for the future? We'll start with Mrs. Russell.
SR: Well, it's funny you would ask that. Just recently, our guest bedroom is used as our prayer room, I was in there one morning last week and was praying, and the Lord gave me a wonderful word and told me the different things He was going to use me for in my old age. I had to laugh and I said that I don't consider myself as old. The Lord just spelled it out that in my old age I would be doing this and that. I had to laugh at that, in my old age, see myself doing…
GR: She has a wonderful ministry called Heart to Heart Connecting.
SR: Thanks, I couldn't get it out. We are planning married couples' seminars starting Friday nights and half of the days on Saturday. These are things I enjoy doing. I also have a ministry called Pathfinders, which is a ministry that ministers to people who have inner healing needs for emotions. Once a month with our church, we have a Pathfinders Saturday. We're helping people who are having problems with guilt, depression, anger, and all kinds of hurt issues from emotional problems. I enjoy doing that.
KB: One of the reasons I know the Russells is because I taught their daughter. She was in my first class. I remember Mrs. Russell as an elegant woman when she came to the school. She was no nonsense. And the thing that impressed me was the fact they took piano lessons. I remember the youngest boy took it for five or ten minutes. I figured, oh, music must be important to them. So because of them, Kathryn took violin. I remembered that and the way the children always looked nice in school. They were very well behaved. And I remembered you coming up and how happy I was to see you. So we have someone on the line who wants to join in, John?
JS: Oh yes. Carla Lovelace, welcome.
CL: Hello everyone.
JS: Carla, tell us about growing up in the Russell household. We've been talking about ministry and commuting down to Washington, PA, church life, and being a pastor's wife. What are your recollections in ministry as a preacher's kid?
CL: I think my brothers and sisters would all say the same thing: ministry, home and everything else went hand in hand. Even before my parents became pastors, they guided us, taught us, protected us from things, and inspired us. They inspired us and today they're our biggest cheerleaders, regardless of what we are doing. They didn't show us church or talk about it, they took us. They didn't just leave us there to go for ourselves, they were they, so when we came home and if we had questions, they were there for us. We experienced that together as a family and still do to this day.
KB: Tell us about your brothers and sisters.
CL: I have a brother who is a professor at Berkeley in Boston. I have a sister that is the liaison for the inner city kids going to suburban schools at Wellesley. Then I have a younger brother here in Pittsburgh who just got a new job with Eaton Corporation. He also works at a church in the city and supports my father whenever he is needed.
KB: What's the birth order?
CL: I am the oldest, and then my brother George, my sister Cynthia, and my younger brother Michael.
KB: Now who's like your mother?
CL: Well, let it be told they tell me I have the cookie‐cutter part of it.
KB: Mrs. Russell, she's your child.
SR: Yes, she's my child, but they're all my children. They each have a little bit of me in them, just like they have a little bit of their dad in them. The funny story is that every time my youngest daughter comes home from Boston and goes back to Boston, her brother, who is also is in Boston, will always say how he knows she has been with her mother because she is saying the same things I say. But Carla is really feisty like I am.
JS: I don't think I realized you were the oldest, Carla. That explains a lot of how you organize things at CUBM. But Carla, did you ever resent the amount of time pastors and spouses have to put into ministry. Was that ever an issue for you or did you just join in and minister along with them?
CL: I am very glad we were probably in college when they really became pastors, because we didn't have that opportunity to say those things. None of us were on our own, but we were pretty much where we could take care of ourselves when they went into ministry. We didn't have to worry about my dad having to go somewhere else when my brothers had a baseball game or anything like that, because they were always there. They still find a way to be at almost everything we do. So I really didn't have a reason to resent the church or anything like that. As we get older, we all have our roles in their church, even though we don't all go to their church. We all play a role. And then when we come home, we know what were supposed to do. I have two pastors.
JS: You're blessed and highly favored.
CL: Two people to answer to.
JS: Carla, talk to us about your brother coming to Pittsburgh. We've been talking about him coming in April. Are you looking forward to that?
CL: Yes, I am, because George has been gone so long. When he left here, George had music under his belt, but now he really has music under his belt. When George left here, he was at a place where, oh yeah, that's George. Now when he comes back, it is like, "Wow. That's George." Music is always something he has wanted to do. To George it's never been a big deal. It's something he likes to do and he just does it. But to actually see him and for people to actually see the accomplishments and the places he has been because of his music, it will be a big difference for people that know him as Georgie. I think when he comes he will be known as George. That's not the Georgie people remember.
JS: Mr. Russell, keeping on George, your son. Did you think he would be this immersed and involved in music? Did you see that coming?
GR: No, not really. Because at one time his dream was to be a baseball player. Then he started playing, going back to the lessons, and took a liking to it. But did I have a dream it would be to this point? No. I was with him recently where we had a grandfather's weekend retreat. That weekend they had a jazz conference, sponsored by Berkeley College, and George was highly involved with that. Just to see him walking around and doing what he did and the respect he was getting from both his peers and the students there. You just sit there in awe and say, "Gee, this is my son." Did I ever think it would get to this point? No. And George is the type of person who just does what he does. He doesn't say, "I am Mr. So-and-so. I'm just George and this is what I do." He will readily admit that he enjoys what he does and gets paid for it. He's a down‐to-earth guy, he loves what he is doing, appreciates music, and appreciates helping other people.
JS: Mrs. Russell, did he get his music from you?
SR: Nope, sorry! He probably got it from his grandfather. His father's father played violin growing up, and my husband's older brother played bass. They were the musical family. My family wasn't. When George was about 12 or 13 years old, he did think he wanted to be a ball player. But when he got about that age, he started taking music a little bit more seriously. Then he went to CAPA. Mrs. Ellie Sax, who was a teacher there at CAPA, and her son and George were friends. George went over to her house one day and was playing the piano, and she said he needed to go to CAPA. He was the first graduate who did a senior recital. And as George does, he incorporated all the different art forms in the school and made sure every art form was recognized in his concert. But one song he wrote, and he was writing songs for many years, but one he wrote was Music is My Life, and that has followed him through all of his life. That's the way he looks at life - the music is his life.
JS: Mr. Russell, let's get back into our Urban Heroes questions. What is on your bucket list and what haven't you done in ministry or life that, Lord willing, you would still like to see accomplished?
GR: I want to just continue what I am doing. Every now and then I say I am getting too old and I am ready to retire and let someone else do it. But it just seems like the Lord puts something else on my plate that inspires me to keep on going. I just want to see lives being changed, regardless of who they are. I enjoy seeing lives being changed. The impact of my father really stayed with me, because I understood there are so many people that are gifted to do things. But because they hit a stump or a dream has been shattered, they kind of just give up on life. And unless someone comes along and encourages them that they can still do it and that it isn't the end of the dream and there is more to it, they'll fail. And I don't want to see people fail.
I have talked with young men who have dealt drugs and talked with them about salvation. One of the things we did at our church was the Chat and Chew Ministry. Chat and Chew was a ministry dedicated to men. And we called it Chat and Chew because we chewed on light refreshments and chatted on situations and problems that men were having, watching grown men being able to reflect on their past and sit in the group with other men and cry because they realized what they were hurting from and what they had missed. And to see things like that, that's my future, to see men's and people's lives changing, and to be able to say we were a part of it.
I always say I wanted to be a social worker. I never went to college to be a social worker, but God let me be a social worker for Him, and this is what I do. And I enjoy it. It's just a marvelous thing. My future? What do I look forward to doing? I look forward to continuing to do what I do right now because I love it.
KB: Do you have a favorite Bible verse, quote, or passage you can share with us?
GR: My favorite Bible verse is Psalms 71. And it says, "In thee oh Lord, do I put my trust. Let me never be put to confusion."
KB: Mrs. Russell?
SR: I guess the one I will give you is Isaiah 40:8 which says that, "The grass withereth, and the flower fadeth, but the word of our God shall stand forever." JS: You both have an exemplary marriage, being together for 54 years, in ministry and with the same church for 25 years. What do you say to someone listening about either – marriage or ministry – what advice do you give them? Share some wisdom of things that come to your mind for someone listening that would encourage them to the longevity and track record you have in marriage and ministry.
SR: In marriage, if I was to talk to people about it, I would say that marriage is a relationship and a process and not something you build overnight. I'd also let them know there are two things they need. One is love and the other is respect. The Bible tells us in Ephesians 5:33 that the man, the husband, is to love his wife unconditionally. And that the wife is to respect her husband. And that's God's way of doing it. And when you follow that plan you can't go wrong.
GR: I'll talk about the ministry side of it. I would encourage anyone who wants to go into ministry to make sure that's where you want to go, that you want to be in ministry. If you want to be successful in it, you've got to really love God. Because if you love God, you'll love His people. Sometimes dealing with God's people is hard and difficult. Some of those you do the most for will turn around and hurt you. But then when you understand your love for God goes beyond that and think of what Jesus did for us, it brings about a difference. So you have to love God. And if you love God you'll be able to serve God's people.
I always tell the saints when I talk to them that they don't belong to me and are God's kid. When they come in to be counseled, the first thing we always have is prayer. I need to do that because they don't belong to me, they belong to God. And I want to make sure I tell them what He wants them to know. And sometimes it hurts and sometimes they disappoint you and then you watch them grow and they begin to understand what you are teaching and they start living it. They come back all excited because they have the victory over something and will tell you in so many words that it works. That's gratifying. It's not a million dollars, but you can't pay for that.
We have seen them come as drug addicts and are now faithfully in the church and afraid to go back to their old lifestyle. One individual got jammed up not too long ago and said he got to thinking about if he went back, he would have to go through all he went through to get to the point he was at, and he didn't want to go through that again. So he was just going to hang in there until God changes things. God did and he was so excited about that. You can't buy that. So what would I want to be doing? What I'm doing right now. Helping people.
JS: We talked marriage and ministry. What about those married and in ministry. Carla said they were a little older when you went into ministry so they didn't have some of those time and attention pressures. Still, in ministry it can be intense and pressure packed. What advice would either of you have for a couple in ministry trying to maintain and develop a vibrant relationship with one another?
GR: The important thing there is that God knows I am married, and God is not going to put demands on me that are going to affect the marriage. To Him, the marriage is honorable. It's something He has brought into play. I think something you have to do is where the Scripture says about you becoming one. You really have to start thinking as one. Sometimes you hear people say that marriage is 50/50. No, marriage is not 50/50. Marriage is whatever it's going to take for both parties to keep it the way you want it to go. Sometimes the husband has to give 100% and sometimes the wife has to give 100%. Sometimes the husband has to give 50% and sometimes the wife does. You never know what you have to contribute. The goal is you want to see the marriage work. You want to have a marriage, not just coexist. There are a lot of people married today that are just existing and not enjoying the marriage. But when you really want the marriage to work, you're willing to sacrifice what you have to sacrifice to make it work. and both do the same thing. The ultimate goal is that the marriage can be a success to please God. And understand that anything God has ordained, such as a marriage, is going to be under attack from the adversary. So you have to bind together to keep your marriage together.
SR: I would say communication is part of the key. You have to realize men and women are different. My husband doesn't think like I do and I don't think like he does. So a lot of times, husbands and wives want each other to think the way they think. So you have to learn how to adjust to each other. I have to learn how to adjust to the way he thinks and does things. And he has to learn to adjust to the way I think and do things. So I think communication is really the key.
GR: And keeping Jesus the center of it.
KB: That is very true. What parenting advice would you have for anyone starting off with children. Your children always went to the public school system, which really says a lot about the type of education they got way back then.
SR: I think you have to keep on top of everything. Children are going to be children. but as my husband said, you have to teach them. You teach them at home before they go out. To give an example, I would take the kids to the store. Before we would go in the store, I would have a teaching moment of what to do and what not to do. And I told them, if they show out on me in the store, I would have to show out on them in the store. I think parents miss a lot of teaching moments with their children.
And quality time is really important. I think it's important, as my husband said before, to help the children understand that we really love them. We did not put all of our children together in a basket and say they would all come out the same way. We try to recognize within each one of them what it was God has put into them for them to do. And that is what we tried to cultivate. And that's the way we tried to push them to go that way.
Carla has been an organizer since she was a little girl. She would get up in the morning and she'd come out of the bathroom and her hair would be combed and she'd be dressed, would go back to her room and everything would be picked up and made up. I knew she was an organizer. On the other side was her sister, who was not organized and everything was different. You have to learn your children and learn who God made them. You can't make them be something they're not. And if you follow them, they will let you know who they are. You just have to follow them. And just kind of nudge them to where you know God wants them to go. And I find with children, people are not training their children these days. They aren't watching them or seeing who they are. Many parents want their children to be who they wanted to be when they were little. And it doesn't work that way.
GR: One of the things we always taught our kids and recognized was that they were no different as anyone else's children. They could be just as bad or just as good as anyone else's children. The one thing we established from the very beginning was bridges. Our kids always knew they could come back across the bridge. No matter what you did in life, because you have no guarantees in life how they will turn out, they knew they could always come back across the bridge.
One of the things I would teach the kids was they would be upset about something and I would tell them the important thing was for them to do what was right. Now if you go to Carla, you go and do what's right, she'd get a big kick out of it. And even though they might not have been treated fairly in that situation, you instill that value in them that you do what's right. And that's the one thing we did. And I believe that's what has enabled us to have the relationship we have with our kids today.
We went through ballets, piano recitals, baseball games, plays, and whatever they were involved in, we were involved in it with them. And we always let them know we'd help to guide them in their choices and decisions. But the choice we ultimately let them know was theirs, and we would support their choice. And I don't think, I know the Lord has blessed them as a result of that. I see how they are with one another today and how they still are with us. I guess the only reason they don't have a key to this apartment is because we could only get two. But they had keys to the house. You can't start when they are 15 or 16. You start when they come into the world. How many times did they bring home a picture, all excited, and want you to tell them about the picture? I couldn't figure out what they were, but then I got smart and had them sit down and explain it to me. Then they could tell me what it was. But we were involved in their lives. And you've got to get involved.
SR: And you have to tell them truth too. Whether they like it or don't. Even to your own hurt and that of your children. And if you do something wrong, you need to apologize to them.
GR: It's good to say you are sorry and messed up and shouldn't have done something. And we had no problem saying we were sorry and made a mistake. And that goes a long way.
JS: Yeah, it does. What do you do in your free time? Do you have any hobbies? What do you do to refresh individually?
GR: We'll go see a Pirates' baseball game. We haven't done it as much as we used to. But we used to have a slum day. And slum day was a day you got up, had breakfast when you were ready to, you might go to a movie, or we might go shopping, and just be together and do what you want to do. No great big hobbies.
SR: The thing I really enjoy doing is reading my Bible, praying, and hearing from the Lord. Now that may sound funny, but I really enjoy that. And I have learned just recently about something called "soaking" where you play some good soft Christian music and just sit and reflect on the music and reflect on the Lord. So I get rest and peace from that. Which allows me to be able to do the other things I am able to do.
KB: Do you have any community organizations you belong to or support?
SR: We belong to the ministerial alliance out in Washington. The one thing I've enjoyed in my life since 1995 is something called Theo‐Therapy, which is an inner healing group. I've worked with them and have gone into the Greensburg jail they are getting ready to close up. But we've gone in there and we've worked with the inmates. We do weekends there from time to time and people come in for help and those are the types of things I enjoy doing.
GR: I don't have anything particular at this time. I just take it easy. I read my newspaper. The grandkids were asking recently what I do, and they replied that I read my newspaper.
JS: Who does most of the preaching?
GR: Mrs. Russell preaches some and does a lot of teaching. I do most of the preaching right now and we have a couple other ministers who fill in. She does a lot of the teaching and the Theo‐Therapy is her baby and she does a tremendous job with that. Sometimes she brings in different speakers to deal with different subjects. But I do most of the preaching, yes.
JS: What have you been preaching on lately?
GR: A couple weeks ago, I preached a message and the title was Peace in a World of Chaos. It dealt with the chaos in the world, but how God can give you peace in the midst of this chaos. I have been finding out that recently I have been preaching messages that go to the individual. That you really have to start examining yourself and where you're at in the world. You hear a lot of different talk about the end times. I'm not a studier of the end times, but I believe a time is going to come when this is all going to end. But I sense in my spirit that it's getting closer. But my big urgency now is the saints to try and get them ready for the coming of the Lord.
JS: Mrs. Russell, can he preach?
SR: Yes. He's a very good preacher.
KB: Is there anything the two of you would like to add?
GR: I myself can't think of anything I'd like to add. Again, I just thank you for this invitation or honor. It's something we never dreamed of. We just did what we thought was the right thing to do, giving a guy a glass of water. But our kids saw something we didn't. They told us some time ago that we just don't know what we have and don't know what's in us. And I say we just do what we feel we're supposed to do. But we've never looked at it as looking for something in return. It was just something, an attitude and spirit the Lord has blessed us with, and we just do.
JS: Well the issue of leadership is when we do what God wants us to do, we never know what we prevented. That's how we lead in faith, minister in faith, and the life that we touched was changed. It takes someone in a different direction and we never know what might have been. So we just trust the Lord for the results. You fit the perfect mold of what we want the Urban Heroes program to mean: people who serve day in and day out and don't always get recognition for that. They do it with distinction and excellence and don't make any headlines for all the right reasons.
Where would we be without you? Where would our communities and individuals be without faithful and committed spiritual folks like you? We thank you for giving us Carla at CUBM. Thank you for our community and your selfless service day in and day out. We can understand why God would want to honor some folks like you. Thank you for consenting to be a part of the program, but you certainly fit all the descriptions and meet all the requirements.


U R B A N H E R O E S