---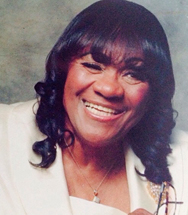 Lola Thorpe
Dr. Thorpe took over the leadership of her husband's church when he passed away a few years ago. In this candid and moving interview, Dr. Thorpe tells some of her story that has made her so prominent in Pittsburgh's church community. At at time in her life when she could have begun to shut down, Dr. Thorpe has increased her activity that caused her church not just to survive after her husband's passing, but to thrive. In this interview and her daughter Lisa's, you will read about women of courage in life and ministry who are worthy of the title, "Urban Heroes."
JS: Tell us a little about Dr. Lola Thorpe.
LT: I am now the pastor of the North Side Institutional Church of God and Christ on the North Side of Pittsburgh, where my husband, who is now deceased, was originally the founder. We started this ministry in Pittsburgh in 1968 after moving from Philadelphia. I started with him as co-pastor throughout those years, upon which I retired from the Pittsburgh Board of Education and devoted my life to full‐time ministry. And having served 40 years as co‐pastor along with him, I began several ministries the Lord blessed me with. One was the inter‐denominational prayer luncheon, the "So You're the Pastor's Wife Seminar," the We Do Married Group, the Women Out Working Conference.
The beginning of something great was the ministry the Lord led me to begin a Bible study on Wednesday evening. And I was with that for a couple years. I hosted also a radio program called Moments of Inspiration that was about eight years old and it was a daily program airing Monday through Friday. Then with PCTV I had the Women in Ministry there; sharing with women and discussing the importance of being used of God in ministry outside of the pulpit. So I am now the pastor with six adult children, 18 grandchildren, and five great‐grandchildren, and working and helping to spread the Gospel, not only through Pittsburgh, but throughout the length and breadth of this country. In the early on years When God Gave My Daughter Back and it was published in the Purpose Magazine in 1997. My daughter had an aneurism at 28 years old and the Lord miraculously healed her and brought her back. So she is now working, alive, praising God, and just moved into ministry.
JS: Talk about where you are from in Philly, growing up, and your family and the role they played in obviously a very productive and fruitful life in ministry.
LT: My family was from an area called South Philadelphia, which my husband and I were from. We actually went to school together there. Then after marrying, we moved to a place called West Oak Lane. But my husband also pastored in an area called Camden, Delaware. We were there for about five years maybe. And it was such an experience and just a different vicinity and all for ministry. My daughter Lisa was born there in Delaware. In fact out of the six children, she was the only one not born in Philadelphia. And we moved from Delaware back to Philadelphia. So after purchasing our home there, after maybe eight months, my husband received a call to come to Pittsburgh.
Was that a challenge for me? Yes. Now I am leaving my family again, my mother and father. I'm the oldest of 14 children and my husband was evangelizing for many years. So we were packing up again and going to a place I knew not of. But for some reason, the Lord gave me the consolation that it was the call He had for my husband. So of course if it was for my husband, that meant it was for me. We rented our home out after eight months; it was our dream house at that time. I journeyed to Pittsburgh, leaving my mother and father and siblings behind. But with some assurance that it was the call of God on our lives, I felt very comfortable doing that.
Before we actually made the move, we commuted for eight months from Philadelphia to Pittsburgh, leaving Philadelphia at 4:30 in the morning and arriving around Sunday School time, then moving into Sunday morning service. Of course we had evening service at that time. And after that service we were back on the road, enroute back to Philadelphia. That was something that seemed unreal, now that I look back on it. It seems like an impossible move. We did that for eight months until the parsonage was ready here. And there was never a moment of distrust, unbelief or doubt of the fact that God might not be in it, because we sensed God. We journeyed on that road on 76 West every Sunday morning with six children; my baby was eight month olds. We took that trip to Pittsburgh, feeling it was the land God had called us to.
After the parsonage was prepared, we moved to Pittsburgh, and my husband continued pastoring here and went forward from that point on. The Lord blessed him. He purchased three buildings, as an act of faith, and he never had to go through the bank. God blessed him. My journey from Philadelphia to Pittsburgh was a trying one, but it was a glorious one. And on one trip to Pittsburgh, we came upon a tremendous storm and it was raining, thundering and lightning. The buses and trucks had pulled over and I asked my husband to stop. He said there was a service and he wanted to make the service. We were coming around a mountain and the Lord spoke into my spirit and said He wanted me to understand that if we could make it through the storm, the sun was going to shine. And we drove right out of that storm and into an area of sunshine. I truly recognized that it was the voice of the Lord that was speaking to me at that time.
KB: Tell us a little bit about purchasing your church where you are now. I realize you have been through some things before you bought the church. Maybe you can fill us in on that.
LT: On January 9, 2009, my husband was ill and paralyzed in a wheelchair. We were scheduled to have combined service with one of our partners in the city. The Lord sent a light snow and storm and we canceled the service. Around 7:00 that evening, we got a call that our church on California Avenue was on fire on. Upon arriving there, everything was in flames and it was gone. I had left someone with husband and told someone I had to go back to my husband and tell him all of his labor with the church was gone. He continued to ask if we got something out of the office. We tried to move forward to build and do several other things that did not work out.
I lost my husband on August 7, 2010. After that, I had a shoulder injury with I got assisting him after one of his strokes. I went in to have my shoulder repaired and my son kept saying, "Mom, I want you to come see a church." I needed to go to therapy and I didn't want to and really didn't want to see a church at that point after 52 years of being married to a minister. But one Thursday afternoon, I had my son‐in‐law take me to the church at 302 West North Avenue, which was Holy Trinity Church at that time.
I went in wrapped up in a blanket wondering what I was doing there. I got inside of the building, and I heard the Spirit of the Lord speak to me to pursue this. I came home and called a board meeting at my home for Monday. And I assured them what I had seen and what the Lord had spoken to me. And I felt this was something God had set aside for us. We had the meeting and I spoke with them and talked and we agreed to have my son and go to speak with them and give them an offer and they accepted it. And from that moment, the wheels began to turn. God gave us favor with this ministry. They had the entire congregation come on and gave us a tour of the church. And I asked what about the banquet hall and the equipment. It seats 450 and has a commercial kitchen. They left us most of those things there. We agreed they would have the Greek festival in May and would continue to prepare the sanctuary for our dedication on June 18th.
Of course we had the land on California Avenue that is still sitting there, but God moved on our behalf. It was miraculous, me being a single woman and not having to confront this before, always having my husband to go ahead of me. The favor of God was upon us. On April 5th, God blessed us to close on that church. And they gave me the keys and I thought that I was just in another world. I put my husband's cross on and wanted to wear his chain. I felt so humbled within myself. On June 18th this year, I will celebrate four years having been there.
At some point, I was like, I want my husband here. I wanted him to see this. And my children were saying that this was what God was doing for me. And so, God has blessed us and I thank Him daily for what He has done. Because it is marvelous in my eyes and it is the Lord's doing. And God has given me my children to work with me there, and three of them are now in ministry. I am grateful to God for that.
JS: Dr. Thorpe you have done a lot of things. You have been in ministry, media, a book. Looking back now, as an Urban Hero, talk to us about some of your most significant accomplishments. What do you look back on and say that was something, of all, the most special?
LT: One of the things that was very special to me was being able to air my radio ministry, Moments of Inspiration. It was called that because I had received inspiration from the Lord as to how I should send it out daily. One time one of my son's friends was murdered on the Hill. I began to pray for his mother over the radio. And as I began to pray for her, I included grandparents, mothers and aunts, all those who were raising children. A couple of mothers called me and wanted me after that to pray for someone specific. Out of that I declared a "Save the Children Day," and sister Gloria Briskey was on the radio at that time. Every day I would get response, and my heart went out to those parents and grandparents whose kids were walking the streets or on drugs, whatever it might be.
I took letters and received calls every day, and I declared for a Save the Children Day, and I had two other sisters at the church who worked with me. And we put those names together and I came up with about 1,000 names. I said to the parents and those concerned, that on Saturday evening at midnight, we were going into the church, and we would take those names and I would lay hands on them and pray. We would neither eat nor drink. We remained in church from Saturday evening until the service closed on Sunday night. And I invited parents, if they desired, to bring those dear children past the church, so that along with my husband, we could anoint the children. It was so overwhelming, the parents and grandparents who came by the church, and then the calls we received. But we laid on the altar with those names all night long, praying for them. We were believing God for change in the lives of these young people. And so, when we finished that, we talked about that on the radio. It left such an impact with me, and God did miraculous things. I received testimonies from parents and grandparents, how God had done things in the lives of their children. That was one of the things from the radio ministry.
Then I began, since the Lord had blessed me to be able to put my children through school, the Lord blessed me to start the Lola M. Thorpe Scholarship, which for the past couple of years I have been able to share with children. And we had a committee and checked their classes. It had to be an accredited college they were going to. So we did that, up until now, every year for my birthday. It started because felt that I wanted to give back to someone. It was my birthday, so I figured whatever they gave me for my birthday I would use towards their scholarship.
And now I have young people who have gone on to receive their doctorates. I have a mother and daughter in my church who both received a scholarship. One year I had Jerome Bettis support me and had about eight schools that were represented. We went as far as Tuskeegee and Cheyney, all over, just sharing something. Not a lot, but just sharing something, to let them know that I wanted to encourage them to continue. Every year, it's a blessing when I see them graduate and have them come back to thank me. It's not all about that, it's just the fact you want to share and give to someone else, so that was another of my big things in ministry.
KB: I hear you speak so highly of your husband. I wonder if there is anyone else who influenced you in your ministry in what you are doing today?
LT: Yes, there was a lady, who is close to 90 years old now, in the city of Philadelphia. She brought a group of us young ladies together for a singing group. And we were called the "South Philadelphia Juniors." She gathered us up from the community and would bring us together at our rehearsal time and just loving to be with us and would teach us about Jesus. We became so attached to her, and if we had a spare afternoon or hour, we would go to Mrs. Lillian's house. She had a husband who was a minister, and her dad was actually our pastor. She was a woman who loved God and had great influence.
And one day, we were sitting on her steps, and she said, "I want you to know that Jesus loves you. And He can forgive you for anything you've ever done." And we were teenagers, and I was like, "Ohh, what is she talking about." And I left her house and we were all in a room and I was saying that I was going to get saved and give my life to Jesus. And they laughed at me, but those words never left me, over sixty years ago. I remember her saying that Jesus could forgive me. She and her husband started a prayer meeting in her home. Wisdom taught her to have it on a Saturday evening when most young people wanted to be out. We would go to her house for prayer meetings in her living room, and it was during one of those Saturday night meetings that the Lord came into my life.
I watched her in her marriage, and her home was like an open home. If the girls were there, the boys couldn't be there, and if the boys were there, the girls couldn't be there, but always wanted a home where people could come in and feel free. We felt so comfortable and loved by being there.
JS: And it seems like you've tried to do the same thing. Correct me if I'm wrong, but young people and women seem to be a burden you have had throughout the course of your ministry. Would you say that's accurate?
LT: Yes, absolutely. When I first came on the radio, I didn't realize there were a lot of women listening to me. One time I was on the radio and took my break after saying, "It's not your battle. You have no need to fight. It's not your battle." I received a letter in the mail from a young lady, who wrote that she was on the way to purchase a gun to take the life of a young man who she helped to get out of prison. Once she got him out, he turned on her and she said that she was going to get a gun and go kill him.
She was driving in her car and kept hearing me say that it wasn't her battle and that she had no need to fight. She wrote that she turned her car around after having almost gotten to the store and told God she would give it to Him. There are so many hurting people out there, that if they could just get a word of encouragement to let them know that there is a better way. If there is just someone who could reach them.
So yes. my burden is for women. And that was the theme of the Noble Women's Class I started. We got on the topic of healing damaged emotions and it was supposed to be a class lasting for maybe six months, but we ended up on that for two years. Within that session, God directed me to give each woman a band‐aid. The Spirit of the Lord said to me to tell them if they could take that band‐aid and put it on their scar or where they hurt, to do so now, knowing that it was an inward pain and an inward scar, that only the Lord could heal. One girl took it and began to scream and holler, "I can, I can!" I was thinking, "Okay, Lord. I understand. This is my assignment for now."
JS: Very good. Do you do the preaching in the church?
LT: Yes. I like preaching, but I like talking, teaching and sharing with people. My husband was a tremendous preacher. I do okay, I guess. I like it, but I like touching people. I like to talk to them so they can take their mask soff. I did the "So You're the Pastor's Wife Seminar" all over this country for a while. I did it until my husband became ill because when I came along there was no one to speak to the pastor's wife. So I started this and moved it from city to city and just loved sharing with the women and talking to them. So, I do like preaching.
JS: What have you been preaching on recently?
LT: At present I'm recovering from a knee surgery, but before that I was dealing with the kingdom focused church, evangelism, and fellowship. I was sharing with the body about dealing and engaging in evangelism, which is enough to just stay on throughout the rest of the year. The importance of evangelizing In our area is so needed. I wanted people to feel confident that is what God is calling us to do, to go into the highways, to speak to people. We can't just be all in by ourselves. And so, I want them to feel empowered to do that and bring souls into the kingdom of God.
KB: There is probably someone who is listening to what you are saying and thinking that the Lord is speaking to them. How would you suggest they prepare themselves for that task?
LT: For the ministry? I would say that prayer and the word of God in studying to show thyself approved unto God. And of course if you are unto God, you are unto man. Then there is just prayer and seeking the face of God and interceding, sometimes not only for others, but yourself – for direction and for the leading of God.
KB: What is your favorite Bible verse or verses?
LT: Romans 8:28: "And we know that all things work together for the good of those who love him and have been called according to his purpose." Once, I began to cry out to God and grumble and complain, and God told me to read Romans 8:28. I kept saying that I knew it, but He told me to read it. When I got up and began to read the verse, the Lord said that I didn't know that it was working for me for good.
JS: What do you do with down time? Do you have hobbies? What do you do to relax and stay fresh?
LT: I read, I listen, and I do a lot of cheering with seniors. I have some young women who are incarcerated and I write them. I'm a spiritual advisor for a couple of men; I write them words of encouragement. Then, of course, I have all of my grandchildren. I go to football and basketballs games. I had several grandchildren graduate this year, and I have two that came out of college and two going into college.
I went through a period of being very lonely without my husband because we did a lot of things together. So I share with my children and just people. I love people, and I love to encourage them – parents, mothers, wives. I find it edifying to talk to the young mothers about church, because that's so needed now.? So, I find things to occupy myself. I'm doing a little better now, but after 53 years of marriage and 13 brothers and sisters and six children of my own, being alone was not a nice feeling.
JS: A life totally focused on ministry and other people.
LT: Yes, I would say that. I have no desires now; there's nothing else for me to do. My heart grieves for mothers and I feel that we often speak of not having fathers in the home. But I feel like there has been a lack in the role of mothers. I think that mothers now need to step up. We're losing out children and don't have anyone to teach and share with them. Sometimes I get questions of how I kept my children and family together. Now they are all working with me in ministry. I'm asked how I did that and I say to love on them, share with them and encourage them. And, of course, Nathan, my grandson, went to Liberty yesterday to register for classes in August, and he came in and took his hat off and said, "Grandma, I'm getting ready to go." And he bowed his head and I knew he wanted me to anoint him in prayer. And I said, "The blessing of the Lord be with you and the favor of God go before you."
JS: What are your future plans? What's left that you would still like to do? For your church, yourself, your family, media or ministry? Anything on the bucket list that you haven't checked off yet?
LT: Well, last year I wrote an easy reader, When the Worst Came First, speaking about the hardships of marriage. And I took it from the perspective of marriage being for better or worst, and I told my story about how the worst came first. I published that last year. Right now I am thinking of writing something else, but I want to get more out into maybe shelters. I probably will do something on the Internet. I'm really seeking direction from the Lord as of what to do, because I know ministry for myself will not always be the same, and I want to be ready to shift when God says to shift. I still want to be used of Him. because I feel good for my age, having to deal with ministry. I want to be able to prepare people and empower them to be ready to take the baton and keep running. I believe the Lord is going to help me to do that.
One of my friends recently called me from Ohio and said the Lord told her to tell me my assignment is not yet finished. And I said, "You cannot be serious." But I took it very seriously, because I had been praying to the Lord. Therefore, I am waiting on direction, and I want to see a ministry that embraces all people who will come not only because of the name of the church or leaders, but because of the name of Jesus.
KB: I was just thinking if you had advice for young mothers or a young girl who is pregnant with her first child. What kind of advice or preparation can you leave for her?
LT: First of all, whatever the situation is and however you got into it – and I just experienced something like this in my very own family – that God is the giver of life. It doesn't matter where we are but it all adds up to where we are going. If she could just begin to understand that no matter state or condition or what she had done, that God is a God who forgives. He is a loving God and draws us, not only with love, but with kindness. He wants to be kind. He wants to show us a better way.
When we begin to seek him and accept His love, then that causes us to begin to love ourselves. Many people don't know how to love God because they don't know how to love themselves. Many young girls and young people in general are seeking love in the wrong places. If they can just understand, as Jeremiah said, that He loves us with an everlasting love. No matter what we do, or how or when we do it, He continues to love us. He's already paid the price. He has loved us enough to give His life for us.
I would say to them to say, "I want to have a new beginning. I want to start afresh and have another wind. I want my mind transformed and start thinking another way." They don't always have to be in the place they are in now. If they begin to search and seek out for things that are better and different, especially if they are preparing to bring a child into the world. If they have already brought a child into the world, then they need to think of things that are positive and not deal with things that are negative. It doesn't always have to be the way it is. They can do better. Maybe they don't have education, but they can go back to school. There are all different types of groups and programs that will help them, even with caring for their child while going to school. There is money, funds, grants, and things that can help them to better themselves. And when they better themselves, then that means they are making things better for their child. Of course when we see God and see Christ, He is the author and finisher of our faith. He causes all things to become new.
JS: Good advice. You and your daughter are our first mother/daughter recipients of the Urban Hero award. And we're so delighted. Tell us about Lisa.
LT: Lisa is my fifth child and a wonderful daughter. She is a daddy's girl. She loves the Lord and walks in a special anointing. She is the one, I believe, who God has allowed to come back from California, to bring calmness and spirituality among our children. She is gifted and is very smart. She's the baby girl and she is my daughter born while we were full‐time in the ministry, and she is special. She walks under great anointing and I am very proud of her. Once we were on channel 21 together, mother/daughter, and she was sharing about growing up with two parents in ministry and the shifting and transition from my husband's ministry to mine. She explains that very well. She is a great mother and a great wife. Thank you all for considering me for the Urban Heroes program.
KB: Absolutely. You and your daughter, individually, are two great candidates. It's just a blessing to have both of you. Thank you for all you do for our community and the church family of Pittsburgh.


U R B A N H E R O E S