---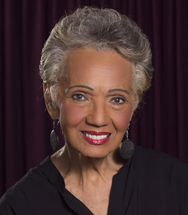 Joy Sato
It is ironic that Joy helped us celebrate the last Urban Heroes' program as our event coordinator and this year she is an Urban Hero. We hope she gets the night off, because the program will be held at the Pittsburgh Center for the Arts where Joy serves as the special event coordinator. Joy has quite a story to tell of her time in Los Angeles, where she rubbed elbows with the rich and famous. Here is Pittsburgh, she rubs elbows with her family and friends, and you will see how important they all are to her as you read through this interview.
JS: Tell us a little bit about you.
Joy: I was born and raised in Pittsburgh in the Hill District. I had my first job at nine years old at a record shop. I always loved music and wanted to work in that arena, but my dad said no. I still went and worked in the community to make a quarter so I would have quarters to share with high school students when we would have the Monday movie. I would give quarters to kids who couldn't go so we could all go and see the movie. I stayed here until I was 18 when I moved to Southern California and ended up having a full life of 37 years there. Then when my daughter moved back to Pittsburgh and had my grandchildren, I did not want them to grow up without me. I had to come back and be with them and I am so thankful I did. I currently am the director of special events at the Pittsburgh Center for the Arts. All the training I had in behavioral sciences and health services at UCLA, I've been able to use it in working with people in every way. I have dedicated my life to other people, and I consider myself a servant and professional facilitator. When I came back here, I thought I was going to give back all I had learned, because I had done quite a bit out in California. I worked at Motown for ten years in the music industry and I am still tied to it after 37 years of living out there. I was involved in many firsts for women. I was involved in City Council. I worked in the city of Los Angeles and had quite a hand in Tom Bradley's administration with Maxine Waters. I knew all of them when they came along and I brought the entertainment industry into the political arena. I was close with Stevie Wonder. I did the first Street Scene there that brought many entertainers into the city in September of every year. I produced the first secular/spiritual concert at the Great Western Forum, with Jack Kent Cook. He said if I pulled it off, he would pay the $100,000 insurance policy that we could be there, because several people had tried it but no one made it, but we did. We did that because of my faith.
I did a birthday tribute to Stevie Wonder. We had it downtown in that brand new area they built in the heart of downtown. I still have many of those ties and friends. It was where I really started, this whole thing of working with people, lifting up people's lives. My inspiration was my grandmother. Whenever I would come home, she and I would stay up all night just talking about the Lord. From the time I was seven, she couldn't read and write, and I would read to her. I still have her Scofield Bible. When the binder wore out, she sewed it up with a needle and thread. In the back of it she had a piece of paper with certain scriptures. My favorite note she had was: "What is a unique faith?" And it stayed with me so that I could understand, I wanted to know about faith and do it for myself. Today, praise God, I knowit in a deep, wonderful and impactful glorified way.. Our faith that is motivated and generated by the Word, is my calling card.
KB: Joy has a rich background in the arts. And she has passed that along, not only to her daughter, but to her grandchildren. Joy, why don't you tell us what they are doing now?
JoyS: When I made up my mind to come after my daughter was pregnant, I didn't want to have that long distance thing; I have to be there with them for them to get my influence so I can take them to things. Because I want them to be exposed to the arts, different cultures, different people, different food, and different things. More than that, I wanted them to know God for themselves. I would come home from work every day and bring mini tambourines and different things for them so we would have a program. We would celebrate their mom or dad's birthday and Mother's Day and all of that. They have grown up with this. I worked in institutional advancement at the University of Pittsburgh and then I came over to the Center. The art and entertainment piece has been with me all the way. I've brought Ozeola McCarthy to the University. I brought Martha and the Vandelas here to the Center, because I have known Martha as my friend. That was another great time and my kids have seen all of this. When it was time for Sarah, who is the oldest, to go to school, she didn't know what she wanted to do. We were going through Schenley Park at the Race for the Cure and listening to Martha Munizzi singing, "I know the plans I have for you."
Sarah told me she knew God has a plan for her, but she didn't know what it is. I told her to keep asking and believing that He is and does have that plan. Then her dad took her to a workshop in DC featuring to the director of the World Bank. The director talked about Third World countries and that people needed to know something about the economics of those country. Sarah came home and said she knew what she needed to do – go to American University to take economics and do something with anthropology in other countries.
Praise God, today she has a degree in economics, and her minor is in social anthropology. Then when she graduated, we were spending time and I told her that she would do something different than her other four roommates. She started crying and said she knew her family had given her everything, but she wanted to go to Hillsong in Australia to play her drums and do whatever God was calling her to do there. I immediately said, "Well, that's what you are going to do." She didn't think her father would let her do that, but she's there, and has been there for three years. What has happened to her is just outstanding. It's just wonderful and I am so thankful for it, because I got to see how God provided.
When you don't know the way and you trust Him, He has a provision network that expands and multiplies. He has a way of doing that and leading us and guiding when we ask and trust Him. My grandson James would come to the Center for an Irish step dancing class, and the woman who was the instructor had three sons. One had already been to Dublin and won the championship for male Irish step dancers. She said she would like to take James to the Irish Center. So we went without knowing anything about Irish step dancing.
He was about four or five years old when he started dancing. James went on to middle school and CAPA, Pittsburgh Ballet Theater, which is the international network for professional dance in Pittsburgh. The ballet master who is there now saw him and called and said he was the most talented kids he had seen in a long time. Today James is signed for the fifth year, signed his five‐year contract at Cincinnati Ballet where he is a classical ballet dancer and recently promoted to soloist. He is absolutely stunning and dedicated.
Him moving into that field was a lot different from where Sarah is. There are people from all over the world, because Hillsong is working in 12 countries. There are doctors, lawyers and people with professional positions who have stopped what they are doing in their trained categories to go there and study the leadership program that Brian Houston has developed. But James, during the summer months, has had different choreographers call him. His summer is so packed that he will be at the famous Joyce Theater, where most people get started, for the second time. We are just so proud of both of them. The first thing we do when we take them anywhere is to get connected to a church. And they have both maintained that. For me to go to DC when Sarah was going to school and standing there with her with her hands up in the air, I'm crying great tears of joy. It's the same thing with James. He comes in and I hear him thanking the Lord for not having any injuries, for all He has done for him. How can I not be grateful and so thankful for what He has done for me?
JS: You spent some time in North Carolina when it wasn't the easiest time for people of color to live in the South. Yet, you've gone on to impact the world. You alluded to your grandmother. Talk to us about your experience in the South, what it gave you, what it did for you, and what was your impetus to not allow that to shape your life, but to go on to one of the centers of the world for entertainment and make your mark?
JoyS: I believe it had more of an impact on me than I thought it did at the time. I say that because I did not go to high school here in Pittsburgh. I wanted to go and live with my mother in North Carolina. So my father agreed to let me go there and stay with her. I went to a little school and graduated with only 49 people. It was a time when black children had to stay home to help farm the land, as opposed to coming to get an education. Any of us who got through, it was exceptional feat.
The most impactful teacher was Simona Lee. When you came in, she would call you by your last name, and she had no tolerance for foolishness. The impact she had on all of us was profound and left such an impression on us. I was in the choir and won lots of awards with our school. I was a champion basketball player before women's basketball ever came along; the trophy is still there in North Carolina. My mother knew how to sew and she could make anything. So she would make me beautiful skirts and blouses out of chicken feed sacks.
Whenever we would go out into the community, we were going there to apply for jobs. I had won a typing contest for the entire county, and I could type 100 words a minute. I would walk in and say I would take any test they would give me. And the reason they would not hire me was not my skills, it was because I was African American. People would call my mother up and tell her I was coming in the front door, because I was defiant. I wanted someone to tell me why they wanted me to use the back door.
But as we grew and I graduated and went on to California, it was a whole different lifestyle with different people and different cultures. I had so many different kinds of friends on the West Coast. I met my husband, David, at UCLA. I got completely away from the South as an African American, it's not that you forget, for you remember what has happened to you. But I never wanted that to define who I am. And I have done that with my children as well. You accept people for whoever they are because God made all of us. And just because someone treats you a certain way doesn't mean that you have to act that certain way. And sometimes, kindness is the best medicine.
Talking about having to really adjust, when I came back to Pittsburgh after being in California for 37 years with a culture of tolerance and open thinking, I was going to come back here and share all of my skill and give back to where I was born and raised. I would sit down and cry and pray, asking God why I had come back into all of the racism. I just couldn't believe it.
When I went back to the University of Pittsburgh and worked in Institutional Advancement, I had all of my ties to Los Angeles and BET and we hosted a huge event up in Schenley Park. I had asked for a special office to have a marketing office but the University said no. With all the people I was connected with, I wanted to have an alumni reunion, we ended up shutting down the switchboard line. The operators called our department wanting to know what was going on. So they ended up having to give me a marketing department with separate phones and everything. And today, the 400 alumni of color I brought to that event with Diane Reeves.
I knew how to make those contacts so then the executive director of Institutional Advancement made sure I had what I needed, because she knew I was genuine and what I was doing was legitimate. We had all these LA entertainers here and it brought in money. More importantly, it brought in 400 alumni who are still connected to the University of Pittsburgh. I'm told all the time that when they have the African American Alumni Council homecoming dinner, that's who they send invitations to.
I brought back all the sports people who ran with Jesse Owens and Arnie Sowell, I brought all of them back together. I did a lot of things, because events were my thing and I knew how to do it and I feel like I have always had favor with it because it's a part of that service piece God has put in me. I have been here, worked hard and have been through a lot of negative situations, even here. For so long I was the only African American here [Arts Center} and there aren't that many still. When you trust God, He will move everybody and everything around when He wants you to be seen.
This is why we have to wait for Him and his timing. All that gave me much strength to encourage my children because when James was coming through all his training, he had scholarships to the best institutions that we could never have sent him to. I would tell him to go and stand up with dignity and integrity. He has always done that. Even Sarah said to me as she moved into stage managing in Sydney, Australia.
JS: In case you aren't familiar with Hillsong, it is the foremost contemporary Christian worship company in the world based in Australia. I worked for another music company called Integrity Music and the Australians prayed because they wanted their own music. God heard their prayer and now they are planting churches all over the world. They have a huge church, one of the biggest in history, in London. Brian Houston is the lead pastor, some would call him the bishop. So when Joy talks about her granddaughter being involved with Hillsong, this is no small entity. It is a worldwide ministry that continues to produce tremendous music many of us would familiar with. It is quite an honor and most impressive that her grandchild would be connected.
KB: We have heard a lot of what has been going on in the present and past, but what are your plans for the future? I know you have a lot of them. Just give us the top one or two top plans you are looking at for the future.
JoyS: I know I want to stay here until the Lord tells me to go, and that time is coming. I recently fell off a stage at an event and all. when I fell back, I don't know what made me turn except the Lord. I turned myself over and caught myself on my hands. If you look at me today, there is nothing wrong with them. I was blessed and God protected me, but it's time soon to make a transition.
I am involved in many other things, of course I am a supporter of youth ministries in Brazil, Uganda, Australia, and Iraq. I host an annual luncheon for the love and care family in Kampala, Uganda where James, Sarah, and Dara went several years ago. I want to continue to be connected with that because we solicit sponsors for Ugandan children. Those students can't come out of there unless they are graduating and want to come here to college. And the first one we ever sponsored is here is almost finished. It's wonderful because she wants to go back [to Uganda]. All these young people I have helped do something and helped get the money they need. I know I will continue to do that through church, because I can minister, contribute, and it's something for me to do.
I'm not one to sit down, because there is too much to be done. That's what I do even with my job. Some young couples want to come through and get married, and I'm with them for a year. I meet and talk with them and it gives me the opportunity to find out what they are doing and thinking. They always want me to sign their wedding books and they love me, and I always have a word for them. Hopefully I will continue to volunteer in major organizations. That's why I want to stay well because I need to stay well to serve others.
JS: Is there a book in your future? You have some pretty interesting experiences and have come through several eras of American history, any thoughts of a book?
JoyS: I have had many people ask me when I was going to write a book. I have seen myself with the book. I have seen it and had dreams about it. I don't know how it will come about. I'm sure I would have to be still or some situations to come. I would love to do that. And there are more ways now to do books and it's not so difficult. And I would love that. Because I would love to share my experiences with other women and Christians.
JS: What is your favorite verse? I know you're a woman of the Word. Tell us about some of your favorite verses, books, or characters in the Bible.
JoyS: I have some of the ones that all of us have. when I say that, I speak of the one in Isaiah 54:17, "No weapon formed against me shall prosper." love that one. My very favorite is 2 Corinthians 5:21, "He who was made to know no sin that we might be made the righteousness of God in him." And of course the one I love to leave everyone with, I have several of them, Galatians 6:9, "Do not grow weary in well doing. For in due season, if you don't faint, you will reap what you sow." I love that advice about not fainting because we are living in times where it is the survival of the fittest. You really have to trust God and know who He is and know who you are if you are going to make it through these times.
The enemy is on a rampage and vicious. Our fight is not against flesh and blood, and it is so clear it is not, but against principalities and wickedness in high places. I rely on that word and find it coming out of my mouth all the time. Sometimes it is the way God has helped me apply and administer it and share it with people because many don't know it's a verse from Scripture. I do simple things like getting together with co-workers for lunch, and I will stop them and ask if we can say prayer. Or they will come and ask me for prayer. That's why I love God so much, because He shows us what to do. All we have to do is ask and trust and He does it and He does it over and over.
KB: One of the things I want to point out is Joy is the best party planner and party giver I know. When you engage her to do something, you don't have to worry about it. It's done, she comes with ideas, everything is set up, and her people are so well trained. That's one of the things I wanted to thank Joy for. When she is looking for someone, we usually have a young person we can send her way. And what she does is get them into the word. She teaches them the soft skills of how to be on time and polite. She really provides a covering for them spiritually and also a mothering of them. So once you are one of Joy's peole, you never lose that wonderful relationship.
JoyS: I appreciate that. My incentive to them, along with the things I try to provide for their heart and manners and culturally, is I am one of these people, and this is no braggadocio, I surprise them with some winter coat or some sneakers I hear them talking about, or even a cell phone. Something they can't get. I just tell them that I don't give away things unless they earn it. So they do. I have the best time with them and people come in asking me where I got them from. Because they are working in facilities where they are trying to transform and renew the minds of other young people. And they ask how I did it. I just tell them I am doing what I can do right where I am, as often as I can with everything I have in me. I know God hears me when I ask Him to help these boys and protect them. Because some of my boys don't come out of some fancy neighborhood, they come out of these hardcore neighborhoods. And I drive them back and take them if their parents come and get them. Because I don't want them to be on the street. But I want them to know that I care about them.
KB: If a young person or someone who is interested in changing their occupation, retiring, or going back into the workforce, what advice would you give them?
JoyS: Well, it depends on what they are doing. This business of retiring, it's not one of my favorite words, because I don't think we need to stop doing and being and giving. I have worked with people who have addictions while on the West Coast in this music business thing and I have seen the lives of people who are in Christian music, who have families, who are completely different people through Christ. And I made an effort to spend time with them to go back to the root. I believe we have to go back to our basic skills and look at what we have passion about, look at what you think you want to do and what you enjoyed doing in your life.
For example, I make an effort to spend time with people all the time. Thursdays are my "shingle day" when I hang my shingle on the door that "the doctor is in," because people come from everywhere all the time to talk to me. It would happen on the West Coast, too. I would move my chair and someone would go get it because they were coming into my office to talk to me about something personal. I go through it all the time. It's the way I start up talking with them about what they want to do. And I always want to find out what their spiritual foundation is. People tend to think about their mental ability, their physical and financial status and all of that. But they always want to leave that spiritual piece somewhere hanging off the side of the roof, as if it's religion, and that's not what it's about at all.
I make an effort to deal with the whole person and find out what they have done and I always go back to those Scriptures about doing all things through Christ who strengthens you. My grandson has that verse tattooed on his chest. I make an effort to tie people to some spiritual base and what it is they want to do, because this is how they are going to have to do things. God is not a magician, but he hears us. He has made us for something, and I make an effort to help them understand that piece. That there is a purpose for you that is good, that has value, that can be done. He will lead you and guide you to those assignments that will make you better than you ever thought you could be, to help you do the things you want to do.


U R B A N H E R O E S